Carlos Bunga
20 Nov 2009 - 28 Feb 2010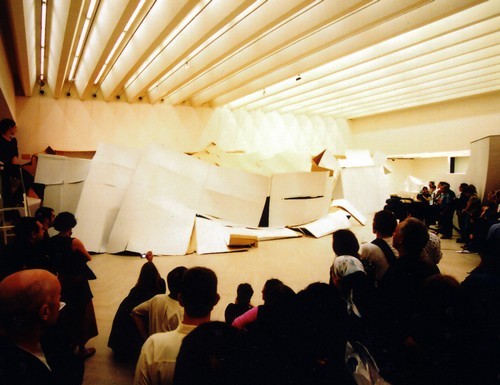 © Carlos Bunga
Kursaal Project, 2004
Cardboard, packing tape, matt paint, light table and slides
Photography by Alberto Martinena.
CARLOS BUNGA
"Metamorphosis"
November 20, 2009 - February 28, 2010
Carlos Bunga: Metamorphosis is the Portuguese artist's first U.S. solo exhibition. The exhibition features two site-specific, large-scale structures created from perishable materials such as cardboard and packing tape emphasizing ideas of impermanence, crisis and decay. Bunga's constructions – which grow organically and sometimes recall provisional street shelters – arise from a dialogue with the existing architecture of the sites at which they are built. The structures employ the motif of the metabolic processes that sustain living organisms as a metaphor for the continuous mutation of architecture and urban space.
Artist Performance: Carlos Bunga
Sunday, November 22, 2009, 3pm
Free with museum admission
In the last stage of the work, after carefully building his structures for weeks, Bunga submits them to a radical transformation. Through a performative, cathartic act, he slices the walls of this construction and pulls it with his body to reveal additional layers and traces hidden within its interior.Carlos Bunga will carry out an intervention within his installation at Miami Art Museum. Please call 305.375.3000 or E-mail
Education@miamiartmuseum.org
.
About Carlos Bunga
Carlos Bunga was born in Porto, Portugal in 1976. After studying Fine Arts at the Escola Superior de Arte e Design in Caldas da Rainha in Portugal, Bunga first attracted international attention with his work at the contemporary art biennial Manifesta 5 (San Sebastian, 2004). Since then, he has been awarded a visual arts grant by the Fundación Marcelino Botín (Spain, 2006) and has had solo shows of his work at MARCO, Museum of Contemporary Art, Vigo ( Heterotopias, 2009), Milton Keynes Gallery (UK, 2006) and Culturgest (Portugal, 2005); and group exhibitions at Warsaw Museum of Modern Art (Warsaw Under Construction, Poland, 2009), Museum of Contemporary Art Barcelona (Time as Matter, MACBA Collection, 2009), Instituto Valenciano de Arte Moderno, IVAM (Construir, habitar, pensar, Valencia, 2008); New Museum, New York (Unmonumental: The Object in the 21s Century, 2007), Justus Lipsius Building (Mobility at Work, Brussels, 2007), Artists Space (Things Fall Apart All Over Again, New York, 2005), and San Diego Museum of Art (Farsites: Urban Crisis and Domestic Symptoms in Recent Contemporary Art, inSite_05, San Diego, 2005).
Carlos Bunga: Metamorphosis is organized by Miami Art Museum and curated by Rina Carvajal. It is funded by Instituto Camões, Espirito Santo Bank, Fundação Calouste Gulbenkian, and Directorate-General for the Arts / Ministry of Culture, Portugal, with additional support provided by UBS Financial Services, Inc. - The Bodner Zubizarreta Group and MAM's Annual Exhibition Fund.