Kimsooja
29 Jun - 26 Aug 2012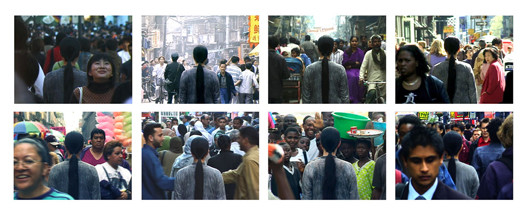 © Kimsooja
A Needle Woman (Cairo, Delhi, Lagos, London, Mexico City, New York, Shanghai, Tokyo), 1999-2001.
Eight-channel video installation, silent. Duration: 6:33 minute loop.
Courtesy of the artist.
KIMSOOJA
A Needle Woman
29 June - 26 August 2012
Miami — June 14, 2012 — Miami Art Museum, a modern and contemporary art museum located in downtown Miami, FL, will present an exhibition of videos by Korean artist Kimsooja from Friday, June 29 to Sunday, August 26, 2012. The exhibition's title, Kimsooja: A Needle Woman, is borrowed from the centerpiece of the exhibition, a multi-channel video installation exploring globalization's impact on cities throughout the world. Kimsooja: A Needle Woman will open with an artist talk and preview on Thursday, June 28, from 6-9pm. In conjunction with the exhibition, MAM will host related programs including: movement workshops for children (July 14) and adults (July 28) designed to bring about greater awareness of the relationship between oneself and one's surroundings; and a film screening of LAGOS / KOOLHAAS (August 18), a documentary exploring the complex city of Lagos, one of the cities featured in Kimsooja's A Needle Woman, through the observations of urban theorist Rem Koolhaas. For more information, please visit
miamiartmuseum.org
.
Kimsooja's A Needle Woman (1999-2001) consists of eight synchronized videos projected at large scale, each depicting the bustling center of a major world city: Cairo, Delhi, Lagos, London, Mexico City, New York, Shanghai, and Tokyo. In each projection, a lone figure wearing neutral gray clothes stands utterly motionless with her back to the camera, immersed amid a torrent of pedestrians. With this simple gesture, the artist exemplifies the perennial struggle to preserve a place for the individual within society, while embodying the experience of being engulfed within a foreign culture. In the process, she provides a vivid sense of the effects of globalization at street level."The figure that appears in these images confronts head-on the fearsome power of the contemporary city; at the same time, through her stillness, she personifies the possibility of making peace with it," said René Morales, MAM associate curator. "Issues of urbanism and the rhetoric that surrounds the 'global city' construct have particular resonance here in Miami.
Kimsooja deals with these topics with nuance and poetry."
This presentation also includes two closely related works by Kimsooja: In A Needle Woman – Kitakyushu, the artist lies prostrate atop a rocky peak as clouds swirl hypnotically above her; while in A Laundry Woman – Yamuna River, she stands at the banks of a sacred waterway in India, suspended amid an ethereal void created by the sky's reflection on the river surface. Offering a direct counterpoint to the larger series, the pair creates a space of timeless serenity within the installation, a momentary respite from the frenetic energy of the 21st -century cities that surround them.
Kimsooja was born in Taegu, South Korea in 1957, and lives in New York, Paris, and Seoul. Her work has been exhibited internationally since the 1990s. Solo exhibitions have been presented at prestigious venues including P.S.1/MOMA, New York, USA; Crystal Palace of Reina Sophia, Madrid, Spain; Baltic Center, Gateshead, UK; BOZAR Brussels, Belgium; Yong Gwang Nuclear Power Plant Project by the National Museum of Contemporary Art, Gwacheon-si, South Korea; Atelier Hermes, Seoul, South Korea; Fondazione Bevilacqua, La Masa, Italy; La Fenice, Venice, Italy; Kunsthalle Bern, Switzerland; Kunsthalle Vienna, Austria; Rodin Gallery of the Samsung Museum, Seoul, South Korea; Institute of Contemporary Art, Tokyo, Japan; Center for Contemporary Art, Kitakyushu, Japan; Contemporary Art Museum, Lyon, France; Museum Kunst Palast, Dusseldorf, Germany; and Padiglione d'Arte Conetmporanea, Milan, Italy. She has participated in numerous international biennial exhibitions including those of Venice, São Paulo, Istanbul, Lyon, Kwangju, Busan, Sydney, Valencia, Thessaloniki, and Moscow.