Robert Rauschenberg
19 Nov 2010 - 10 Apr 2011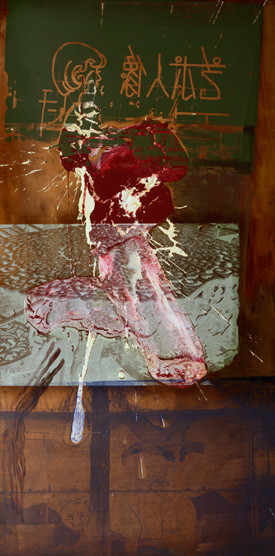 Robert Rauschenberg
Untitled, 1986
Acrylic on copper, 79 x 39-1/2 inches
Collection Miami Art Museum, gift of James Rosenquist in memory of Sheila Natasha Simrod Friedman. Art © Estate of Robert Rauschenberg/Licensed by VAGA, New York, NY.
ROBERT RAUSCHENBERG
19 November, 2010 - 10 April, 2011

Miami Art Museum presents a new exhibition in the Focus Gallery section of its Permanent Collection installation, dedicated to works by the late Robert Rauschenberg. Rauschenberg is celebrated as one of the first artists to incorporate mass media imagery into his artwork. Focus Gallery: Robert Rauschenberg, open November 19, 2010 through April 10, 2011, looks at various techniques the artist used over the course of his career to transfer images from their source medium into his artworks.

The exhibition will feature a key work from MAM's collection — Untitled, 1986 from his Copper Series — along with several works lent by the Estate of Robert Rauschenberg to examine how Rauschenberg employed different techniques at different times in his career to achieve stunningly diverse effects. Included among the loans will be a rarely seen series of solvent transfer drawings from 1965; a Hoarfrost work from 1974, made from images imprinted on thin, translucent fabric; and one of the artist's late dye-transfer works on polylaminate, in which Rauschenberg employed images he himself had taken.