Rufino Tamayo
24 Jun - 23 Sep 2007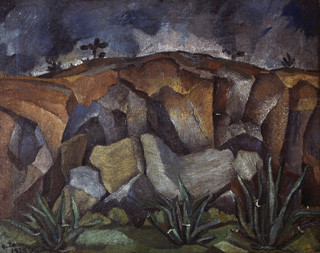 Paisaje con rocas (Landscape with Rocks), 1925, Oil on canvas, Museo de Arte Moderno, Mexico City, CONACULTA/INBA.
© Herederos de Rufino Tamayo
Tamayo: A Modern Icon Reinterpreted
June 24- September 23, 2007
Upper Level Gallery

A Modern Icon Reinterpreted is the first major exhibition in the U.S. of the work of the Mexican artist, Rufino Tamayo (1899–1991), in nearly 30 years. This retrospective brings together approximately 100 of the best canvases made by Tamayo over a long and productive career that spanned seven decades. The largest section profiles the most notable period of Tamayo's career, the 1940s and 1950s, when he developed a new form of abstract figuration that made him one of the most recognized and respected modern painters. The exhibition seeks not only to present a careful selection of Tamayo's finest works, but also to offer a contemporary reinterpretation of this world-renowned artist.

The exhibition and accompanying publication have been made possible through the generous support of Larry and Astrid Hammett, Houston and Anne Harte, Jon B. and Lillian Lovelace, Eli and Leatrice Luria, Lady Leslie Ridley-Tree, The Challenge Fund, The Cheeryble Foundation, The Grace Jones Richardson Trust, the National Endowment for the Arts, an indemnity from the Federal Council on the Arts and the Humanities, and an anonymous donor.

The Miami presentation is supported in part by the Consulate General of Mexico, Mexico Tourism Board,Neoris and MAM's Annual Exhibition Fund.