Selections from the Permanent Collection
08 Aug - 02 Nov 2008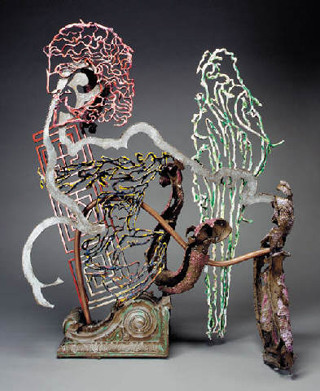 © Nancy Graves
Evergrowing Mobility, 1990
Mixed media sculpture; iron and bronze
58 1⁄4 x 51 x 14 inches
Collection Miami Art Museum, gift of Lillian Heidenberg
SELECTIONS FROM THE PERMANENT COLLECTION

Plaza Level Gallery
August 8 – November 2, 2008

This installation will include a selection of major works from MAM's growing permanent collection. The collection spans international art of the 20th and 21st centuries, with a focus on art of the western hemisphere since 1950. MAM's ten-year-old collection has been growing in leaps and bounds since the 2004 announcement of plans to build a new museum in Miami's Museum Park. The installation will combine old favorites from the collection, such as Frank Stella's Chodorów II and Morris Louis' Beth Shin with more recent acquisitions, such as Kehinde Wiley's Regard the Class Struggle as a Main Link in the Chain and Nancy Graves' Evergrowing Mobility.
Selections from the Permanent Collection is organized by Miami Art Museum and curated by Assistant Director for Programs/Senior Curator Peter Boswell. It is supported by MAM's Annual Exhibition Fund.