Teresa Hubbard and Alexander Birchler
15 Aug - 29 Oct 2006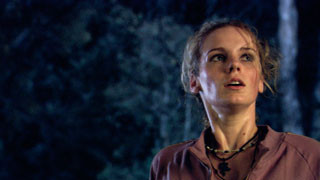 House with Pool (video still) 2004, High-Definition Video transferred to DVD. Courtesy Tanya Bonakdar Gallery, NY. Collection Julie and John Thornton
Teresa Hubbard and Alexander Birchler
House with Pool
August 15 - October 29, 2006

An affluent modernist house nestled in a forest, a middle-aged woman, a teenaged girl and a young man provide the elements for House with Pool's unsettling, unresolved narrative – a mystery with no beginning, middle, or end. In House with Pool, the house sits quiet, sheltering a woman absorbed in thought. As she moves through the house, a younger woman moves through the night and the forest. The younger woman enters the house; the older woman is unaware of her trespass. Instead, they are drawn together through recurring objects, coincidences, and repeated gestures. As a result, the vague contours of a human drama of grief, alienation, solitude, and loss gradually come into focus; culminating in a uniquely disturbing event that, despite its impact, stops short of resolving the film's mysteries.

Teresa Hubbard and Alexander Birchler have worked collaboratively since 1990. Born in Ireland, Hubbard grew up in Australia and later attended the Skowhegan School of Painting and Sculpture and the Yale University School of Art. Birchler, born and raised in Switzerland, attended the Basel School of Fine Arts and the University of Art and Design Helsinki. The artists met in 1989 and began collaborating while both in residence at the Banff Centre for the Arts in Canada. In 1992 they completed MFA degrees at the Nova Scotia College of Art and Design in Halifax, Canada. Solo exhibitions of work by Hubbard and Birchler have been presented at several important, international venues, including the Whitney Museum at Altria, NY; the Sammlung Goetz Museum, Munich; ArtPace Foundation for Contemporary Art, San Antonio, Pinakothek der Moderne, Munich, Kunstmuseum Basel; and Tanya Bonakdar Gallery, NY, among many others. International group exhibition venues include the Museum of Contemporary Art Chicago, Mori Museum Tokyo, Kunsthaus Zurich and the 48th Venice Biennial. Their work is the subject of a major, upcoming survey exhibition, organized by The Modern Art Museum of Fort Worth.

This presentation is organized by Miami Art Museum and curated by Assistant Curator René Morales .