David Claerbout
31 May - 10 Aug 2012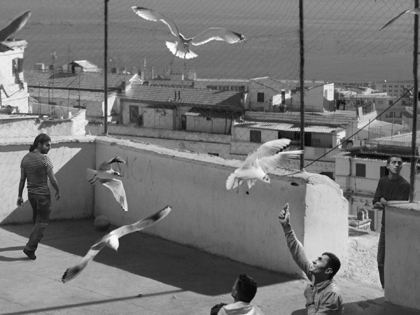 © David Claerbout
The Algiers' Sections of a Happy Moment, 2008
single channel video projection, black & white, stereo audio, 37 min loop
courtesy of the Collection of Pamela and Richard Kramlich, San Francisco
DAVID CLAERBOUT
the time that remains
31 May – 10 August 2012

On 30 May 2012, Parasol unit foundation for contemporary art will preview a solo exhibition dedicated to the filmic works of the Belgian artist David Claerbout. The exhibition features works spanning Claerbout's practice from 2000 to the present. The time that remains will be the artist's first solo exhibition in a London public gallery.

Claerbout situates his striking work between the complex worlds of digital photography and film, investigating this intermediate area in concise and thought-provoking installations. Claerbout's films often depict everyday activities or events, which once digitally manipulated negate the linear passage of time. His work questions the viewer's conventional ideas of time and narrative processes.

Born in 1969, David Claerbout is one of the most internationally acclaimed video artists of his generation. He currently lives and works in Antwerp and Berlin.