Front of House
16 Apr - 28 May 2008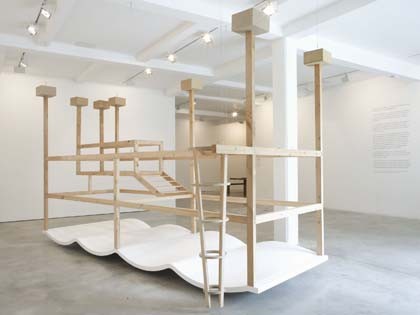 © Ângela Ferreira, Die Vlermuis Huis (The Bat House), 2006
480 x 250 x 258 cm (dimensions variable)
Courtesy Miguel Rios, Lisbon
FRONT OF HOUSE

Marcos Corrales, Ângela Ferreira, Narelle Jubelin, Andrew Renton with the UK premiere of a screening of Maison Tropicale by Manthia Diawara

Front of House is a collaborative project that brings together two artists (Angela Ferreira and Narelle Jubelin), an architect (Marcos Corrales) and a curator (Andrew Renton) to create an exhibition. The title of the exhibition refers to the public areas in theatres and concert halls, and the exhibition seeks to bring unarticulated spaces and stories from the backstage into the foreground, within sight of the front of house.
Angela Ferreira was born in Mapatu, Mozambique in 1958 and now lives and works in Lisbon.
Narelle Jubelin was born in Sydney, in 1960 and now lives and works in Madrid.
Marcos Corrales was born in Madrid in 1964 where he lives and works.
Andrew Renton was born in London in 1963 where he lives and works.