Jakub Julian Ziolkowski
09 Jun - 29 Jul 2011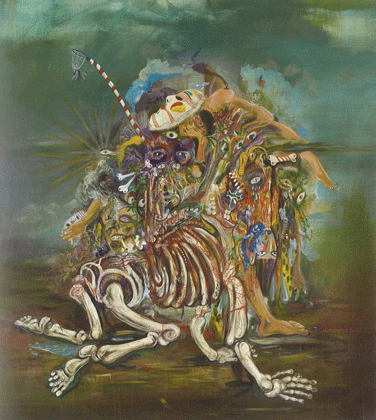 © Jakub Julian Ziolkowski
Untitled, 2009
acrylic and oil on canvas
170 x 152 cm
Private Collection, Courtesy Foksal Gallery Foundation.
JAKUB JULIAN ZIOLKOWSKI
In Utero
9 June – 29 July 2011

On June 8, 2011, Parasol unit will preview a solo exhibition dedicated to the Polish artist Jakub Julian Ziolkowski. Ziolkowski's paintings are a wild hallucinatory journey into his strange and often frightening universe. Skeletons battle soldiers in murky swamps; towers of eyeballs goggle cartoonishly; flesh peels wetly off bare bones. Ziolkowski has an unflinching attitude to the corporeal: the body takes centre stage, at once defiled and dissected.

Ziolkowski's vision parallels a collision between the fantasy planet of Hieronymus Bosch and the grotesque cartoonish world of Philip Guston, viewed through the lens of the artist's extraordinary imagination. Influenced by the folk tales and the often dark history of his native country, and by contemporary culture, Ziolkowski's references are wide-reaching: from the Ancient Greeks to André Masson to Frank Zappa. Ziolkowski's measured and often delicate command of his medium belies his sinister subject matter. His paintings resonate with an unnerving atmosphere which speaks profoundly of the darker side of human nature.

Jakub Julian Ziolkowski was born in Zamosc, Poland, in 1980; he lives and works in Zamosc and Krakow. The exhibition at Parasol unit will be his first solo exhibition in a public institution in the UK. It will feature a selection of paintings produced throughout his relatively short but prolific career.

Ziolkowski's solo exhibitions include Hauser & Wirth in New York and London (2010 and 2006 respectively), Centre d'Art Contemporain, Geneva, Switzerland (2009), F.A.I.T. Gallery, Krakow (2007), Foksal Gallery, Warsaw (2005) and the Academy of Fine Arts, Krakow (2004). He participated in group shows 'Library of Babel / In and Out of Place' at 176 Gallery, London in 2010, 'Head-Wig' at Camden Arts Centre in 2009, 'psyche' at Galerie Dennis Kimmerich, Düsseldorf and 'Schüttelreime' at Office Baroque Gallery, Antwerp (both 2008). In 2009, his work was featured in the exhibition 'Younger Than Jesus' at the New Museum in New York. He took part in '1000 Lives,' The 8th Gwangju Biennale, Korea in 2010 and 'Heaven', the 2nd Athens Biennale in Greece in 2009.

The exhibition will be accompanied by a new publication with essays by Ziba Ardalan and Jakub Banasiak. It will be co-published and distributed internationally by Koenig Books.

The exhibition is generously supported by Polish Cultural Institute.