Johannes Lotz »Kein Märchen« / Emeli Theander »Irrgäster«
24 May - 29 Jun 2013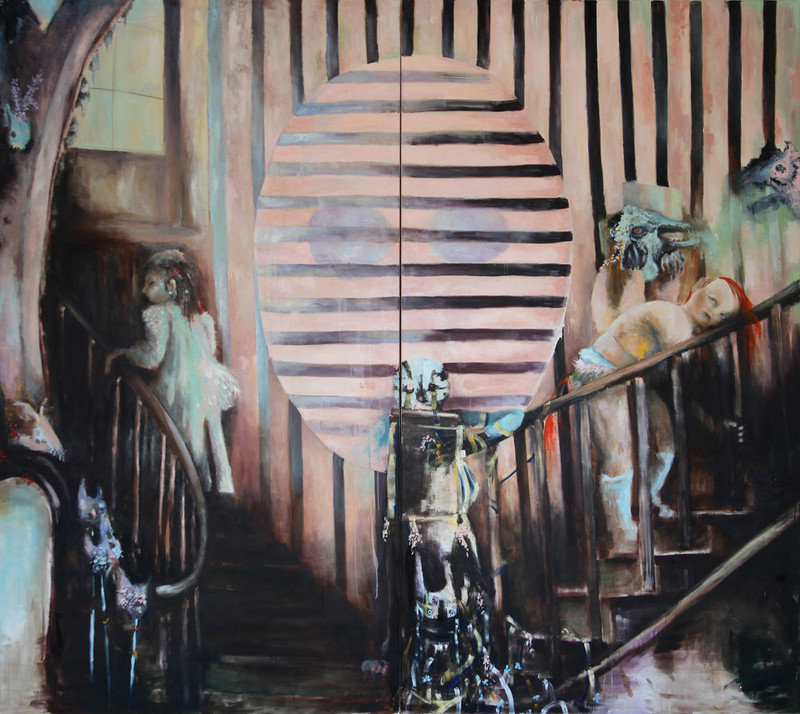 Emeli Theander »The Captive Mind« 2012 - 2013, oil on canvas, diptych, 250 x 280 cm
JOHANNES LOTZ
»Kein Märchen«

24th May– 29th June 2013
Opening: Thursday, 23th May 2013, 7 pm

Introduction: Dr. Peter Joch, Director Kunsthalle Darmstadt, 7:30 pm

'I am intent on creating particular spaces in order to achieve a certain kind of atmosphere – as found, for instance, in fairy tales. My pictures allow me to conjure up a world which accommodates the spectrum of being, eschewing any form of evaluation – a world in which things can be obscure, poetic or even absurd.'

In his paintings, Johannes Lotz produces pictorial worlds inhabited by bizarre figures caught up in strange activities on impenetrable paths to bizarre places. Here and there, they touch upon familiar motifs from fairy tales – yet their stories are disrupted by incoherent narration and formal inconsistency, and they therefore remain cryptic. The fragmentary references to art historical themes, such as 16th- and 17th-century painting, help to create pictorial structures full of suspense. A finely nuanced balance between clear, luminous and broken colours dominate the paintings, as do graphic and painterly detailed pictorial elements.

Johannes Lotz (born in Saarbrücken in 1975) studied at the Academy of Fine Arts in Mainz under Friedemann Hahn and in Munich underGertraud Schottenloher. He has participated in several exhibitions in art associations and held a solo exhibition in the Diözesanmuseum in Regensburg. Saarländische Galerie in Berlin in now planning a large solo show of Lotz's work for 2014.

Line West
7th June 2013, 6 – 9 pm
Concert: Band Erlen with Johannes Lotz (guitar & singing), 8 pm

---

EMELI THEANDER
»Irrgäster«


24th May– 29th June 2013
Opening: Thursday, 23th May 2013, 7 pm

Introduction: Dr. Peter Joch, Director Kunsthalle Darmstadt, 7:30 pm

Emeli Theander's painting, symbolist in style, emerges in the liminal regions between aesthetic appearance and the uncanny. Her spiritual beings cast in sombre, dreamlike settings make her paintings appear vague and illusory, relishing in horror and dread. The title of her exhibition is an orthonological term referring to lost birds that unexpectedly appear far away from their nativeterritory. Mainly thrown off course by storms, they become erring guests. Birds are a stock component in Emeli Theander's repertoire of motifs, a kind of key for decoding her works. In many cultures, birds have a symbolic significance; messengers between worlds, they are symbols of luck or bad luck, freedom orwisdom. In Theander's artistic world, however, they have an important role to play – they are the connecting link to the realm of spirits in her paintings.

Emeli Theander (born in Gothenburg in 1984) studied at Berlin University of the Arts under Valérie Favre. After participating in exhibitions in Sweden, Great Britain, Denmark and Germany, she already presented a large solo show in Seoul in 2010. This year, Merkel Collection & Foundation honoures her with the promotional prize in support of young painters.