Mateusz Szczypinski »Somewhere Between – Our Matters« I Benjamin Bronni »Somewhere Between – Kantum«
24 Jan - 08 Mar 2014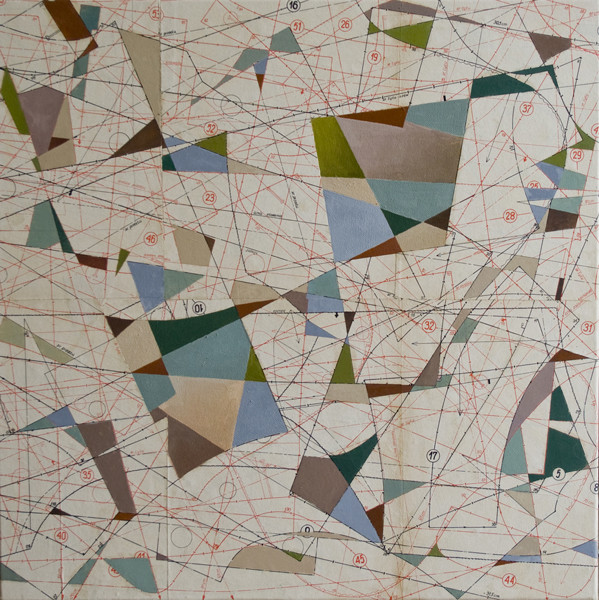 Mateusz Szczypinski »Untitled« 2012, Oil and paper on canvas, 55 x 55 cm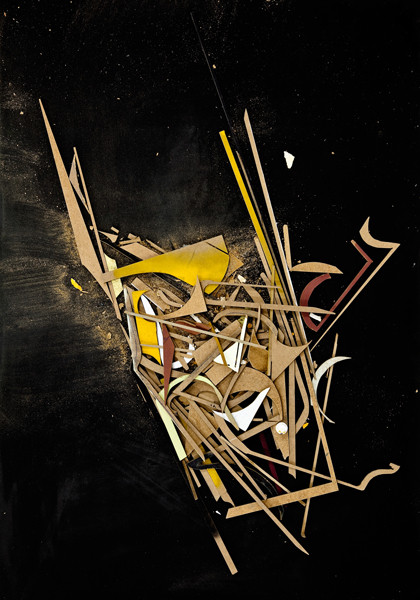 Benjamin Bronni »Leftovers II« 2013, Colour photograph, 100 x 70 cm
MATEUSZ SZCZYPINSKI » SOMEWHERE BETWEEN – OUR MATTERS«
BENJAMIN BRONNI »SOMEWHERE BETWEEN – KANTUM«

STUTTGART 24th JANUARY – 8th MARCH 2014
OPENING 23rd JANUARY 2014, 7 PM

The »Somewhere Between« project comprises two separate exhibitions by Mateusz Szczypinski and Benjamin Bronni. These two artists initially seem to have very little in common with each other: Bronni's works are spatial installations, while Szczypinski's mostly involve two-dimensional paintings. The artists come from two different countries and have never met each other in person, yet they appeal to a common visual tradition. In today's complex world, they both seek to refer to something »constant« in order to define the present times. In the context of this project, we would like to show aspects and similarities connecting the two artists, both born in the 1980s, although there are undoubtedly visible differences between them. Each individual exhibition will have a section - an annex, showcasing works of the second artist. When first confronted with Szczypinski's and Bronni's works, the viewer will immediately sense the artists' fascination with modernism. Yet this invocation of the past is not just a mere repetition. On the basis of a modernist visual heritage, both artists embark on their own quest. They become »materialistic historians« who build an image of the present on the ruins and partly forgotten shreds of the past. Diversity, citation and a sense of peculiar eclecticism characterise contemporary culture – qualities that shaped both artists in the 1990s. Their artistic work directly stems from the character of our times and is the answer and a key to dealing with the present. Today, there are no explicit rules; everything is allowed – anything goes. Citation or a reference to the past is also a form of rebellion in times when everything is permissible in art, and boundaries are blurred: currently, for instance, there is no distinction between the sacred and the profane, between original and copy, and different – very often contradictory – elements merge and complement each other. These are times of a fl ood of information and images that instantly lose their importance and fade in the excess of new ones, only to be forgotten. It therefore seems that both Bronni's and Szczypinski's invocations of modernist (or even pre-modernist) times – namely, when art was still governed by rules or principles and treated as a religion – is a reaction to contemporary times. Their artistic pursuits constitute an attempt to refer to something »constant« as a means of defi ning the present times. On the level of aesthetic thought, Bronni and Szczypinski try to examine and defi ne mutual relations and connections between forms, colours, planes, composition and space. They seek to interpret and contextualise these in the contemporary discourse on painting, sculpture or installation art. Both artists return to the times of the strict rules and principles that had placed art in the sphere of the sacred. And they make use of the construct of a module. Bronni develops his work on the basis of a strict geometrical form emerging in space, which is both the basis and building block of subsequent objects. Szczypinski uses a twodimensional square, a circle inscribed into more or less fi gurative images, or a module in the form of a single building or block on the surface of the city. By multiplying it, he succeeds in making it unreal in such a way that it receives an almost abstract, symbolic dimension. Ultimately, Bronni's and Szczypinski's modules constitute a kind of a sanctifying sign that seeks to restore art to ist proper place. Curated by Dobromila Blaszczyk.

Organised by Foundation Lokal Sztuki, lokal_30 in Warsaw and Galerie Parrotta Contemporary Art in Stuttgart. From Feburary 1st – March 15th, 2014, lokal_30 in Warsaw will present the second partner exhibition with Benjamin Bronni and Mateusz Szczypinski. The project is co-funded by the Foundation for Polish-German Cooperation. Both exhibitions will be accompanied by catalogues published for this occasion.