Geoplay (Part I)
10 Feb - 21 Mar 2009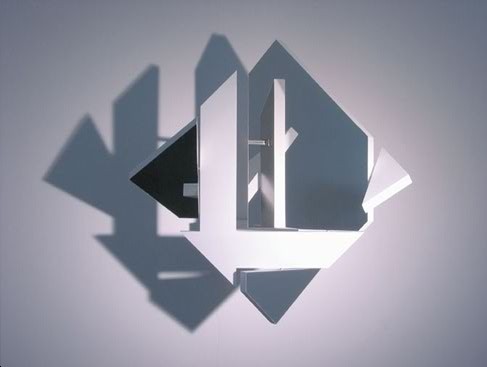 © Germaine Kruip
Counter Composition III, 2008
Mirror, stainless steel, mechanics and daylight spot
80 x 80 x 60 cm
GEOPLAY (Part I)

Philippe Decrauzat, Germaine Kruip, Conrad Shawcross, Katja Strunz

10.02.2009 – 21.03.2009

Pilar Parra & Romero is pleased to present the first part of GEOPLAY with the participation of Philippe Decrauzat, Germaine Kruip, Conrad Shawcross and Katja Strunz.

Between the boundaries of modernity and modernism and operating in the gap between conceptual art, abstraction and graphic art., GEOPLAY will draw different meanings and questions of how geometric imagery and abstraction content different perceptions; being the geometric composition as well as the technique and media, vehicles where memory and narrative appear from experiences that occur through different times and spaces.

Another intention of this show is to point out that questions about form continue and advance in a contextual mode, in a way a little alienated from the modernist work. Therefore the concept of the pieces in this show, performs in a more contemporary and radical way.