Won Ju Lim
09 Apr - 17 May 2008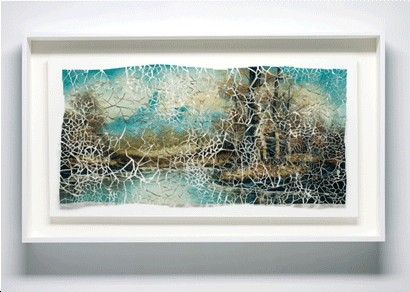 BROKEN LANDSCAPE #5, 2007
Paint on canvas, silk pins, and foam
64.8 x 111.8 x 13.3 cm.
© PilarParra&Romero, All rights reserved
WON JU LIM
"Broken Landscapes And Other Sad Things"

Inauguración 09 ABR 2008
09 ABR – 17 MAY 2008

Pilar Parra & Romero is pleased to present Won Ju Lim second solo show in Spain. This Korean artist lives and works in Los Angeles, California.
In this exhibition Lim makes a departure from previous works but the core her exploration is present as she seeks to define the body's relationship to space, time and memory through the terms of architecture, sculpture and atmosphere.
In the series of works called "Broken Landscapes" Lim present an entirely new working method. Here the artist has broken down a series of landscape paintings, cutting the works apart and putting them back together. The paintings become a mosaic of memories, as they are refashioned with cracks and gaps referencing our own memories that often have holes and vacant spaces. It is in these spaces that we fabricate realities of the past based on our own perceptions and histories we have invented. Lim deconstructs one memory to invent another.
Working with the conditions of light and space, Lim is using for the "Ruined Traces" tri-dimensional sculptures, materials that are both synthetic and natural, making a play between the real and the hyper-real. The components illustrate contradictions between the material and the space it occupies. Small model homes rest upon rolling hills with lush foliage, encased in Plexiglas structures. Shifts of scale and perspective require the viewer to engage this surreal atmosphere. Once the structure is revealed, the rolling hills dissolve into plaster ruins that become brightly colored landslides.
Won Ju Lim (1968) most recent exhibition have been in Ullens Center for Contemporary Art in Beijing, China, Patrick Painter Inc. in Santa Mónica, California and Galerie Max Hetzler in Berlin. Her work is part of public collections such as T-B A21 Thyssen-Bornemisza Art Contemporary in Vienne, Autria, Hammer Museum in Los Ángeles and Centro de Arte Caja de Burgos, Spain. She was recently granted with the Rockefeller Foundation Media Arts Fellowship.