Bruce Conner
DECK Drawings
01 - 28 Jun 2020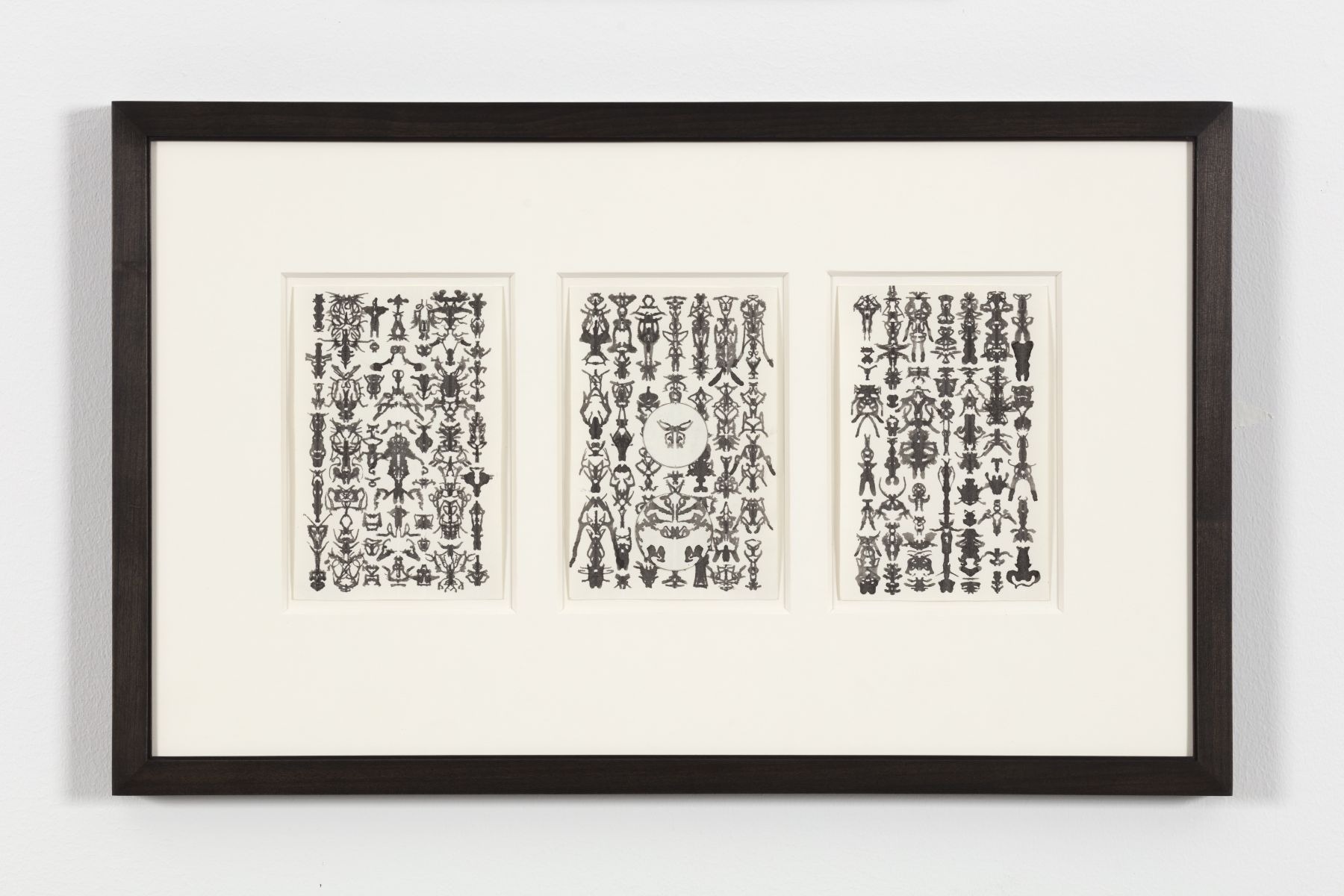 Bruce Conner
TRIO 51-55-28, 1975
ink
each card: 6 x 4 in. (15.2 x 10.2 cm)
frame: 13 1/4 x 21 1/4 in. (33.7 x 54 cm)
© 2020 Conner Family Trust, San Francisco / Artists Rights Society (ARS).
BRUCE CONNER
DECK Drawings
1 - 28 June 2020

One of the foremost American artists of the postwar era, Bruce Conner (1933–2008) worked across a vast range of media including drawing, sculpture, collage, painting, photography, printmaking, and film. Emerging from the West Coast countercultural movement, he restlessly explored mysticism and spirituality, punk rock and psychedelia, while tenaciously rejecting American jingoism and consumerism. Throughout his fifty-year career, Conner embraced change in endless forms, producing stunningly inventive works grounded in a rigorous structural precision.

Created in the summer of 1975, Conner's DECK drawings are some of the artist's very first works in the INKBLOT series—one of his most expansive bodies of works. Composed of tiny, intricate, filigree patterns on white paper, inkblots became Conner's main artistic medium in the last decades of his life, during which he experimented with amplified scale. An intensely meticulous activity, his process began by carefully folding paper along parallel vertical lines. Placing drops of ink, one at a time, and then pressing the fold to create the mirror impression, Conner repeated the action hundreds of times for a single drawing. His exhaustive variations in this technique resulted in myriad permutations of density and form. Several of Conner's DECK drawings introduce wispy, interconnected blots, while others are darkly inked and drawn with greater sharpness—like small, self-contained space invaders or hieroglyphics. The spectrum of complex patterns in these early DECK works illustrates Conner's burgeoning experimentation and deft mastery of the medium.

Paula Cooper Gallery's presentation of DECK drawings marks the first time these works have been shown as a group. The discrete inkblots were created in 1975 for Conner's unrealized DECK project. A would-be collaboration with his friend, the poet Michael McClure (1932–2020), DECK was conceived of as a set of cards, each printed with a lithographic reproduction of single inkblot on one side and a pair of words on the reverse. A person playing with the set would produce different poetic phrases by arranging and rearranging the cards. Though DECK was never completed, Conner returned to his original drawings in the 1990s, reordering them as singles and TRIOS—a move that was consistent with his collage mentality and disregard for traditional boundaries of artmaking. Rather than recognizing his works as fixed products, Conner consistently edited or repurposed his own drawings, sculptures and films. Conner's DECK drawings speak to the artist's pioneering peripatetic yet iterative practice.

Born in McPherson, Kansas, Bruce Conner (1933–2008) was raised in Wichita where he attended Wichita University. He received his BFA at Nebraska University in 1956 and continued his studies with scholarships at the Brooklyn Museum Art School and the University of Colorado. In 2016, Conner was the subject of the major monographic survey "BRUCE CONNER: IT'S ALL TRUE," which opened at the Museum of Modern Art, New York, and traveled to San Francisco Museum of Modern Art and the Museo Reina Sofia, Madrid. In 2000, the Walker Art Center, Minneapolis, organized a retrospective of Conner's work titled "2000 BC: THE BRUCE CONNER STORY, PART II," which traveled to the Modern Art Museum of Fort Worth, the M.H. de Young Memorial Museum in San Francisco, and the Los Angeles Museum of Contemporary Art. His work has been included in major exhibitions, such as the historic 1961 "The Art of Assemblage" at the Museum of Modern Art. Conner's works are in the collections of many major museums, including The Guggenheim Museum; The Metropolitan Museum of Art; The Whitney Museum of American Art; The Museum of Modern Art; The San Francisco Museum of Modern Art; Los Angeles County Museum of Art; The Walker Art Center, Minneapolis; The Art Institute of Chicago; The National Gallery of Art, Washington DC; Hirshhorn Museum and Sculpture Garden, Washington DC; and The Centre Pompidou, Paris.