Cal Arts Benefit Exhibition
05 - 19 Apr 2014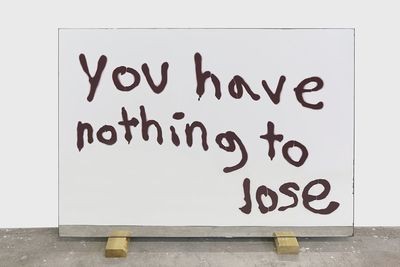 © Sam Durant
You Have Nothing To Lose, 2012
spray enamel on hand silvered glass
36 x 47 1/4 in. (91.4 x 120 cm)
CAL ARTS BENEFIT EXHIBITION
5 - 19 April 2014
Participating Paula Cooper Gallery artists include: Jonathan Borofsky, Sam Durant, Charles Gaines, Liz Glynn, Hans Haacke, Douglas Huebler
NEW YORK—The CalArts Art Benefit and Auction is a fundraising effort in which more than 80 important works of art donated by CalArts alumni, faculty and friends will be exhibited and sold this spring. This unprecedented initiative will fund the new John Baldessari Building and endow scholarships for students at the CalArts School of Art.
Through his generous and innovative teaching and his exceptional art practice, John Baldessari, a Chouinard alumnus and former CalArts faculty member, has influenced thousands of young artists and has earned a prominent place in the history of contemporary art. The Baldessari Building is the Institute's newest educational facility featuring exhibition and instructional space as well as 16 artists' studios. Reducing student debt is one of the Institute's highest priorities, and the endowment created from proceeds from the auction and sales will allow more CalArts students to launch their creative careers without the burden of enormous debt.
The initiative launched with an opening reception for the exhibition at Regen Projects in West Hollywood, CA on February 25, 2014 and now travels to Paula Cooper Gallery and Metro Pictures in New York from April 5–19, 2014. The opening reception on April 5 features a performance by Los Angeles-based collective My Barbarian that will move between the two galleries.
All donated works are available for viewing on Artsy (
https://artsy.net/feature/calarts-sale
)
More than 30 works by artists including John Baldessari, Ed Ruscha, Walead Beshty and Tony Oursler will be sold at auction at Christie's New York on May 14, 2014.