Carl Andre
27 Oct - 15 Dec 2012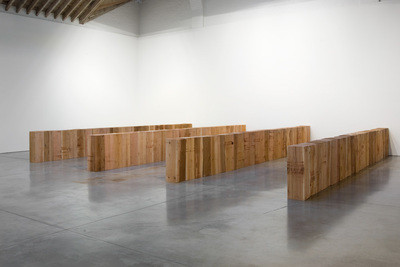 © Carl Andre
Redoubt, 1977
100 Western Red Cedar
timbers each: 36 x 12 x 12 in. (91.4 x 30.5 x 30.5 cm); overall: 36 x 336 x 300 in. (91.4 x 853.4 x 762 cm)
CARL ANDRE
27 October - 15 December 2012

NEW YORK – The Paula Cooper Gallery is pleased announce an exhibition of Carl Andre's large-scale sculpture, Redoubt, on view at 534 West 21st Street from October 27 through December 15, 2012.

Consisting of four parallel rows of twenty-five western red cedar timbers, the sculpture was created and originally exhibited for Andre's one-person show at the Joseloff Gallery at the Hartford Art School in 1977.

Andre started his career as a sculptor working with wood. In 1958-1959, he was carving wood timbers using a chisel or saw to create abstract pieces with geometric, often symmetrical patterns. These early works recalled both the verticality and symmetry of Brancusi's sculptures and the rigorous logic of the paintings of Frank Stella, whose studio Andre was sharing at the time. In 1960, Andre started his Elements series, using identical timbers of equal size in various configurations. This series marks the moment when Andre definitively abandoned the manipulation of materials. He progressively moved on to materials such as granite, limestone, steel, lead and copper.

Andre's first one-person show was held in 1965 at the Tibor de Nagy Gallery, New York, and the following year his work was included in Kynaston McShine's and Lucy Lippard's seminal exhibition "Primary Structures" at the Jewish Museum. He was, with Donald Judd, Dan Flavin and Robert Morris, one of the leading artists of the 1960s and often associated with Minimalism. In the 1970s, the artist created large installations, such as 144 Blocks and Stones (1973) for the Portland Center for the Visual Arts, Oregon, and outdoor works such as Stone Field Sculpture (1977) in downtown Hartford, Conn.

Andre lives in New York. His work has been the subject of several exhibitions, most notably at the Solomon R. Guggenheim Museum, New York, in 1970; the Laguna Gloria Art Museum, Austin, Texas, in 1978; the Whitechapel Art Gallery, London, in 1978; the Stedelijk Van Abbemuseum, Eindhoven, in 1987; the Haus Lange und Haus Esters, Krefeld; the Kunstmuseum, Wolfsburg, in 1996; and the Musée Cantini, Marseilles, in 1997. The Dia Art Foundation will present Andre's first North American retrospective with an accompanying new monograph in May 2013.