Christian Marclay
24 Jun - 24 Aug 2010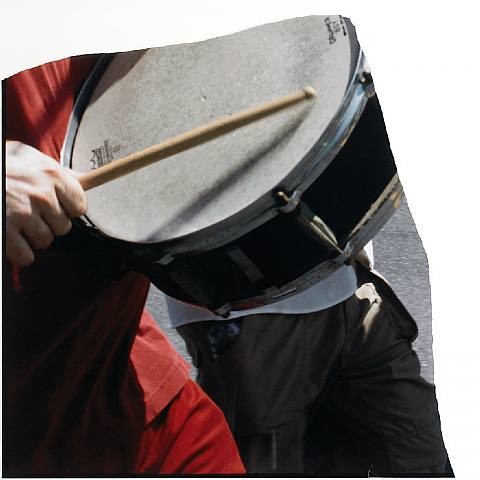 © Christian Marclay
Untitled (from the series "Fourth of July"), 2005
c-print
32 x 31,5 in / 81,3 x 80 cm
CHRISTIAN MARCLAY
"Fourth of July"
24. Jun - 24. Aug 2010
NEW YORK – The Paula Cooper Gallery is delighted to present Fourth of July, an exhibition of photographs by Christian Marclay. The exhibition will be on view at 521 West 21st Street from June 24 through August 24. A new catalogue with an essay by Jean-Pierre Criqui will accompany the exhibition.
The works from Fourth of July are torn fragments of photographs Marclay took of an Independence Day parade in Hyde Park, NY on July 4, 2005. Marclay produced large prints of seven of the many photographs, showing marching band members in uniform performing on gleaming, star-spangled instruments, and proceeded to tear them up into more than 40 pieces. These jagged fragments of a dispersed whole arrest and refocus our gaze, like silence suddenly and unexpectedly interrupting a cacophony of sound. Details that might easily be overlooked suddenly emerge: a foot suspended in mid-air and casting a shadow on the hot asphalt, cymbals about to crash, half-trumpets severed from their players, spectators placidly overheating on the sidewalk. At the same time, the torn images are anti-icons, questioning the durability of our myths and celebrating the creative power of destruction and disfiguration.
As Jean-Pierre Criqui observes in his compelling essay about Fourth of July, "tearing makes something partially or wholly unintelligible. The torn object is to some extent constantly eluding meaning. [...] The reader in turn feels torn: between different hypothetical readings, between different attempts to restore what may have been hidden from him." In the end, these fragments "are evidence of Marclay's continuing attraction, observable in his earliest work, to fractures, lacunae, faults, scratches and all kinds of other forms of damage, whether deliberate or accidental. [...] He has endowed them with a symbolic power superior to any approximation of a whole that is by definition impossible and mendacious – the whole of photography, of the event that it has recorded, of the history that it commemorates."
There will be other opportunities to see/hear the work of Christian Marclay this summer. On July 1, the Whitney Museum of American Art will open "Christian Marclay: Festival," a groundbreaking exhibition highlighting the interplay between the visible, the audible and performance that is the hallmark of Marclay's work. The exhibition will focus on the artist's graphic scores: art works with visual cues to be interpreted by musicians in performance. In addition, the record label Dog W/A Bone has released Graffiti Composition, a performance of one of these scores, recorded in concert at the Museum of Modern Art on September 13, 2006, with musicians Elliott Sharp, Melvin Gibbs, Mary Halvorson, Vernon Reid and Lee Ranaldo.
A book signing event to celebrate the publication of Christian Marclay: Fourth of July, as well as the CD release of Graffiti Composition, will be held at 192 Books on June 23, providing an opportunity to meet the artist. For more information please contact 192 Books (212-255-4022;
info@192books.com
).
An artist well known for his work in a wide range of media, including sculpture, video, photography, collage, and performance, Christian Marclay has exhibited his work for more than three decades in museums around the world. His 2003 retrospective, which originated at the UCLA Hammer Museum in Los Angeles, traveled to other North American institutions as well as venues in France, Switzerland and Great Britain. The touring exhibition Replay, focusing on his video work, originated at the Cité de la Musique, Paris, in 2007 and was presented at DHC/ART in Montreal (2008). The Aldrich Museum of Art will be presenting an exhibition of Marclay's cyanotypes in September 2011. As a pioneering turntablist, performing and recording music since 1979, Marclay made a significant impact on the new music scene. He has performed internationally, alone or in collaboration with musicians John Zorn, Zeena Parkins, Butch Morris, Christian Wolff, Shelley Hirsh, Günter Müller, the Kronos Quartet, Sonic Youth, and many others.