Bruce LaBruce
30 Jan - 24 Apr 2010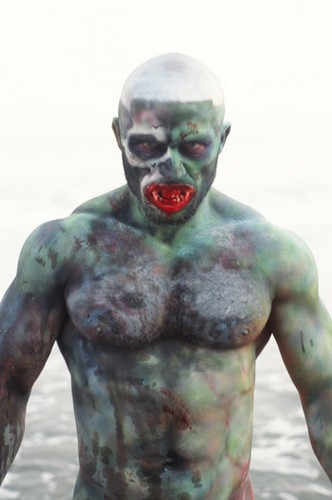 © Bruce LaBruce
LA Zombie, 2010 (production still)
A Movie by Bruce LaBruce
Starring Francois Sagat
80 minutes
HD digital
Produced by Wurst Film, Dark Alley Media, PPV Networks and Arno Rok
Special Effects courtesy of Joe Castro
BRUCE LABRUCE
"HELTER SKELTER"
LA Zombie: The Movie That Would Not Die
January 30 - April 24, 2010
Opening January 30, 7-10 pm
From Bruce LaBruce's blog for LA Zombie,
http://www.lazombie.com/index2.php
Saturday, August 8th
Now I remember why I love filmmaking. What other pursuit allows you to experience despair and jubilation all in one day, and twice over? Jason picks me up in his trusty Datsun and we head for the lofts on Wilshire where the production office is. The air-conditioning there is broke and with all the guys staying there with no openable windows it's getting pretty funky. Because the big car crash scene has been changed to a location in Topanga Canyon to be shot on Sunday night, we have the opportunity to shoot another full day of Francois in various locations in LA both dressed as a homeless person and as an alien zombie. Sometimes disaster can turn into advantage.
We did have an awesome, experienced First A.D. in place, but he dropped out about a week before shooting when he got a paying gig. A lot of the people who have volunteered to work on this project for little or no money are dropping off like flies because they just can't afford to turn down other work if it becomes available. I suppose it has something to do with the economy. I guess the economic disaster also explains why there are so many more homeless people than I've ever seen in LA. Anyway, without a real First A.D., the shoot is pretty chaotic today. Laszlo and I are basically doing it ourselves, which is a little distracting. At least we have walkie-talkies and GTS, which makes transportation and finding locations a lot easier. So we head out this morning with our little convey communicating with ten-four good buddies and copy thats.
The first location has sexy homeless Francois gleaning along a chain link fence down on a street that overlooks downtown. I was inspired to play up the homeless aspect of the character by watching Agnes Varda's "The Gleaners and I" for the first time recently, a meditation on those who pick up waste and garbage and basically pick clean the bones of society. Actually my last film, Otto; or, Up with Dead People, was also about a homeless zombie, partly inspired by Varda's movie "Vagabond". So I guess I'm pretty much stuck on one idea, except this time it's going to be a full on porno. How do you like them apples?
The next location is down at the LA River. We're shooting guerilla style, sans permit, because it's too expensive, but when we try to go down a tunnel on Sante Fe Ave. at 6th Street under the bridge to East LA, there are two cops sitting on bicycles at the entrance to the river. Laszlo and Robert and I go down to assess the situation, but when we pass the cops and say hello, they just warn us to be careful of the drug addicts around there! I don't have the heart to tell them that we're more concerned about them than of the junkies. We just tell them that we have permits to do a shoot in a few days and we're just doing test shots. So the cops leave and we bring the whole crew down to shoot LA wandering aimlessly down by the lazy concrete river. We even have Francois with his pants down washing in the river, which looks amazing – kind of like one of those videos Farrah Fawcett (RIP) used to do for Playboy.
Sunday, August 9th
Okay you're not going to believe this one. Today we are slated to shoot the biggest set piece of the movie, the aftermath of a car crash on a mountain road. To even attempt this is pure folly because it is a logistical nightmare and it will be difficult to pull off with our measly budget. But we're doing it anyway. Thankfully our first remote mountain location has been replaced with a slightly less remote one in Topanga Canyon. It's about and hour and a half drive from our Wilshire HQ by freeway, but once we get up into the mountains there will be no cell phone service so we'll be cut off from civilization. Steve our sexy art director has rented two trucks, one for the pre-accident scene and one for post-accident; the latter wreck has been towed to the location by a crazy Frenchman who owns a wrecking company. I ride to the location with Luis, the soft-spoken Cuban who works for Dark Alley and who is making the making-of video. In the backseat are our models, Francois, of course, and Rocco Giovanni, a cute, personable young porn star from Columbus, Ohio whom I met on Twitter. Everything seems light and gay on our way to Topanga Canyon; little do they know what horrors lie ahead....
Javier Peres is pleased to present Bruce LABRUCE's first solo show with Peres Projects in Berlin. HELTER SKELTER will consist of new works on canvas and the European debut of LaBruce's most recent film, LA Zombie, starring Francois Sagat.
"HELTER SKELTER" will be on view at Peres Projects (Schlesische Str. 26, 10997 Berlin) through April 24th, 2010. Hours: Tuesday through Saturday, from 11:00 A.M. to 6:00 P.M and by appointment. For further information or reproductions please contact Margherita Belaief at +49 30 6162 6962, or
Margherita@PeresProjects.com
or Javier Peres at
Javier@PeresProjects.com
.