¿ Cómo Te Voy A Olvidar ?
Group Show
10 Jun - 30 Jul 2016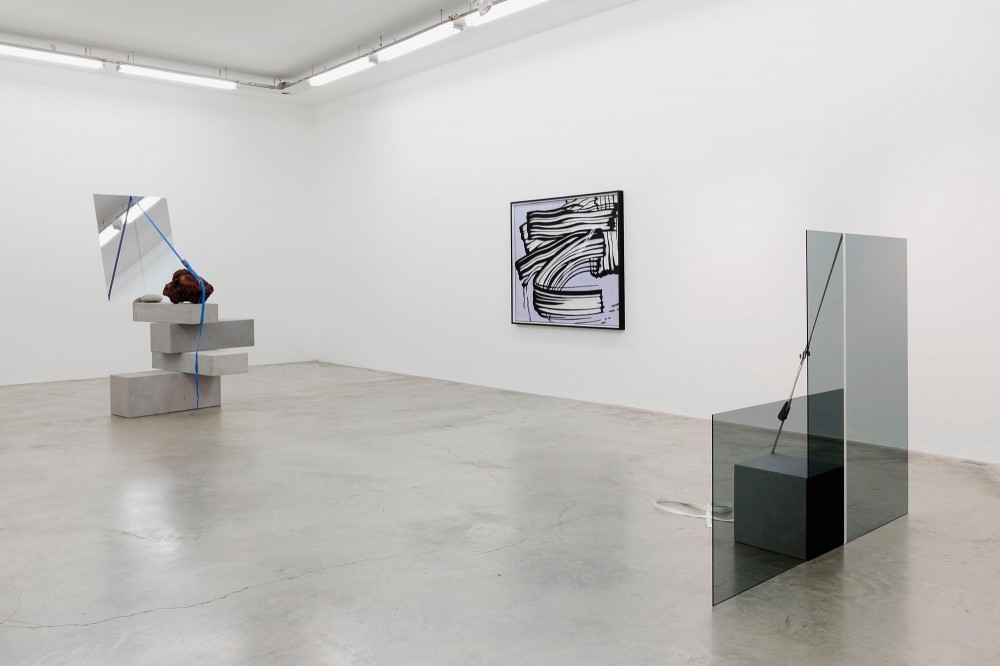 Jose Davila "Sans Titre" / "Untitled" 2016 / Blocs de béton, pierres, mirroir sans tain, sangle / Concrete blocks, rocks, one-way mirror and ratchet strap / 200 x 140 x 170 cm / 78 3/4 x 55 1/8 x 66 15/16 in / Unique
"Untitled (Cold Shoulder) II" 2016 / Tirage couleur / Archival pigment print 147 x 172 x 7.5 cm / 57 7/8 x 67 11/16 x 2 15/16 in / Edition 1 of 4
"Untitled (Cold Shoulder) II" 2016 / Tirage couleur / Archival pigment print 147 x 172 x 7.5 cm / 57 7/8 x 67 11/16 x 2 15/16 in / Edition 1 of 4
Courtesy Perrotin
¿ CÓMO TE VOY A OLVIDAR ?
Group Show
Gwladys Alonzo, Ana Bidart, Edgardo Aragon, Pia Camil, Jose Leon Cerrillo, Jose Davila, Yann Gerstberger, Fritzia Irizar, Dr Lakra, Gonzalo Lebrija, Jorge Mendez Blake, Ariel Orozco, Tania Perez Cordova, Gabriel Rico, Martin Soto Climent, Tercerunquinto, ¿ Como Te Voy A Olvidar ? Mexico Project
10 June - 30 July 2016

Curated By Anissa Touati & Peggy Leboeuf

¿Cómo te voy a olvidar? / How could I forget you? takes its title from the leading cumbia group Los Angeles Azules, whose melody played over our two years of intense research in Mexico. From our visits to artist workshops in Mexico City, Oaxaca, Monterrey or Guadalajara, from Michoacán to Chiapas and the Yucatán, at residencies, institutions, and galleries... This song accompanied us everywhere, with the artists, while travelling, or in the streets: for us it is the refrain of an intense and passionate Mexico.
¿Cómo te voy a olvidar? presents the work of sixteen artists from the new Mexican generation: Gwladys Alonzo, Edgardo Aragón, Ana Bidart, Pia Camil, José León Cerrillo, Jose Dávila, Yann Gerstberger, Fritzia Irízar, Dr. Lakra, Gonzalo Lebrija, Jorge Méndez Blake, Ariel Orozco, Tania Pérez Córdova, Gabriel Rico, Martin Soto Climent and Tercerunquinto, who succeeded Damián Ortega or Gabriel Orozco. Aged between 25 to 40 years old, they have the common quality of being linked or connected to Mexico, whether as country of origin or as adopted home.
The exhibition includes approximately sixty works (installations, videos, paintings, photographs, ceramics, collages), and takes place in all 3 of the Galerie Perrotin's spaces, in which each artist is invited to occupy a room in order to freely present their universe.

¿Cómo te voy a olvidar? brings together works that are elegant and full of reserve; many of them are new productions, acting as microhistories encapsulating oral narratives and traditions, avoiding all forms of political or necropolitical visual violence. The artists by turns question notions of modernity, identity, citizenship, and rituals: coded messages in the form of personal narratives, interrupted stories, and fragments of dialogue. They make intimacy, contemplation, and subversion interact. Some reinterpret sociocultural landscapes through literature, architecture, or fiction, while others reconsider the legacy and ideologies of modernism, as well as systems of graphic languages.

The exhibition unfolds in the form of a long crossing that begins in the spaces located in the rue de Turenne. In the entrance, 6 blurry drawings by the Tercerunquinto collective represent an eagle devouring a snake on a Barbary fig tree, the result of an action where friends and colleagues erased the lines of the national coat of arms. A little further along, the ceramics of Pia Camil are inspired by the billboards abandoned throughout Mexico. Pia Camil appropriates bands of color or fragments of a letter or number, and transforms these ads into household objects, emphasizing the shortcomings of consumer life through a playful but also critical gesture.

Jose Dávila proposes a series of new sculptures and cutouts, whose purpose is to create a functionalist appreciation of physics in order to reflect on structure as an artistic composition, and geometry as a guiding line and source of creation.

José Léon Cerrillo continues with an in situ installation that divides the space with superimposed layers, putting the construction of abstraction into perspective through the use of point of view and perception. Each frame functions both simultaneously and separately in the space, creating different angles to proceed through.

For Tania Pérez Córdova, absence and immateriality occupy the same space as the object, and supplement its meaning. Recounting stories is crucial: each of the works is coupled with an action reflecting different forms of typical social behavior, especially the use of contact lenses as a means of differentiation.

With regard to Ana Bidart, she is interested in objects that are not necessarily visible: passports, empty crates, packaging material, bar codes, tracking numbers, shipping details, strips of tape, and residue of all sorts, and carries them from their original lives toward new ones.

On the second floor, Fritzia Irízar offers an allegorical variation on the Phrygian cap to discuss the creation and disappearance of universal political symbols in the collective imagination. She suggests a debate on democracy and the constant repetition of history.

In all popular cultures, beyond questions of politics, celebrations hold a special place. Martin Soto Climent has concentrated his research on Mexico's vital need for "la Fiesta," an archaic ritual celebrating life and its self-renewal. He uses jeans (Mezclilla in Spanish), the most common article of clothing, which erases borders and social distinctions.

Jorge Méndez Blake has created a new socio-cultural space revolving around the work of Georges Perec, one that is structured around the analysis of the everyday, including recourse to observation and autobiography, as well as a taste for stories. He reexamines the way in which we construct our cultural heritage by creating new connections between literature and architecture.

At the entrance to the Saint-Claude space are a sculpture and a drawing by Dr. Lakra: an enhanced pin-up, a grotesque erotic-kitsch carnival, mixing former rituals and hallucinogenic visions with a subversive humor on the connection between life, death, and desire.

Yann Gertsberger, Gwladys Alonzo, and Gabriel Rico use artisanal craft as a means of surpassing the codes of modernism. The installations of Gabriel Rico are made up of neon lights, tree branches, brass rods, and stuffed animals bought at second-hand markets, and are assembled in a way as to question our relation to nature. The geometric form associated with an animal or organic form invites us towards a spiritual experience, to contact with a non-discernible reality. Gwladys Alonzo uses the tiles that adorn the façades and sidewalks of Guadalajara, and that make up the architectural identity of the city, or gathers the painted stones that mark roads in the Mexican countryside. Yann Gerstberger glues cotton fibers with industrial fabrics found in markets, and takes inspiration from the motifs of Mexican popular culture, art history, and nature.The film "Exterminio" by Edgardo Aragón is steeped in a deceptive calm, and shows beautiful landscapes along the Pacific coast, but as the video unfolds, details accumulate, so many warnings gesturing towards a somber story. His approach to landscape recalls the "fukeiron" or the "theory of the landscape," in which all of the landscapes we encounter daily, even those worthy of a postcard, are the expression of the power structures in place.

The installation of Gonzalo Lebrija, which uses 4 16mm films, presents in each of them a magnificent landscape with a small figure, the artist himself, who enters the frame and then runs away from the camera as fast as possible, suggesting a provocation or a distance that cannot be made up, an invitation to follow him and fill the gap.

This selection of artists formulates hypotheses regarding the basis of our experience and our encounters with the actors of the Mexican art world, which for a number of years has been seen as one of the new forces in contemporary art. ¿Cómo te voy a olvidar? attempts to give an account of the country's complexity and influences, in relation to its conquests as well as its proximity to the United States and South America: a multicutural crossroad open to the world.