Florian Morlat
04 May - 06 Jul 2013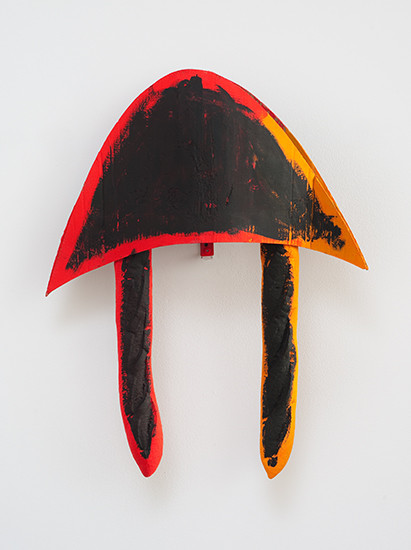 © Florian Morlat
Untitled (Where the action is), 2013
Oil enamel and cast aluminum
29.5 x 23.5 x 6.5 inches, 74.93 x 59.69 x 16.51 centimeters
FLORIAN MORLAT
Sticks and Stones, pt. 1 & pt. 2
Pt. 1 opens May 4 - June 1, 2013; pt. 2 opens June 8 - July 6, 2013
4 May - 6 July 2013

Cherry and Martin is pleased to present Florian Morlat's first solo exhibition at the gallery. Morlat's show will take place in two parts: Part 1 opens May 4th, 2013; Part 2 opens June 8, 2013.

Florian Morlat's first solo exhibition at Cherry and Martin includes works made from materials like cardboard, paint, plaster and wood. It also features a selection of new cast and painted aluminum pieces. This is a new direction for the artist. Morlat has long incorporated everyday materials into his sculptures and wall works. In his first exhibition at Cherry and Martin, he goes even further, adding organic materials like straw, French bread, and bananas.

Morlat was born in Munich. The physical components of his work recall his roots in a German-language post-war artistic tradition. At the same time, Morlat's visual pursuits, particularly with regard to shape, suggest an aesthetic born of 1960s California pop culture—he's lived in the state almost 20 years—and a familiarity with American modernist icons. In Morlat's work we sense the rawness of Franz West, the freedom of Alexander Calder, the poetry of David Smith. Morlat's pieces are subjective, stylized representations of people and things; at the same time, they are objective investigations into form and mass, color and, especially, shape. The tension of an encounter with the 'one-sideness' of Morlat's pieces is only resolved through circumnavigating them and getting a sense of their totality from all sides.

Cherry and Martin has previously presented Florian Morlat's work at Art Brussels as well as the three-person exhibition, "Matt Connors, Robert Cumming, Florian Morlat" (2011). He has been the subject of solo exhibitions at Galerie Ben Kaufmann (Berlin, 2009, 2005); Rowley Kennerk Gallery (Chicago, 2007); and Daniel Hug Gallery (Los Angeles, 2007, 2004). Group exhibitions include "Home Show, Revisited," Santa Barbara Contemporary Arts Forum (Santa Barbara, 2011); "YBA," curated by Ali Subotnick, Mauritzio Cattelan and Olaf Metzel (2006); Berlin Biennale (Berlin, 2006); "Abstract Art Now—Strictly Geometrical?," Wilhelm-Hack Museum, (Ludwigshafen, Germany, 2006); and "Florian Morlat and Thaddeus Strode," Michael Hall Gallery (Vienna, 2003). Morlat studied at the Akademie der bildenden Künste, Munich, received his diploma from the Kunstakademie Düsseldorf in 1996 and his MFA at University of California, Los Angeles in 1999. He lives and works in Los Angeles.