Jacques Lipchitz
02 Oct - 07 Dec 2014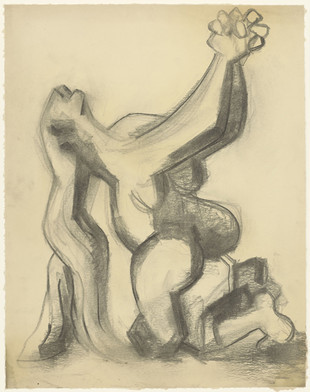 Jacques Lipchitz
Study for »The Suppliant«, ca. 1945
Charcoal, 595 x 370 mm
Staatliche Graphische Sammlung München »Gift of Hanno D. Mott on behalf of the familiy of Jacques Lipchitz« supported by the American Patrons of the Pinakothek der Moderne,
Foto: Staatliche Graphische Sammlung München
© All Rights Reserved – Estate of Jacques Lipchitz
JACQUES LIPCHITZ
Drawings 1910-1972. A Donation from The Estate
2 October - 7 December 2014

Jacques Lipchitz, born in Lithuania in 1891, is considered one of the leading sculptors of the 20th century. He lived in Paris between 1909 and 1941, and in New York and Italy up until his death in 1973. The donation presented here of around 30 drawings from all his creative periods and a sketchbook from the artist's estate will be made together with a similar donation to the Uffizi Gallery in Florence and presented to the public in two exhibitions with one joint catalogue.