Julian Göthe
27 Jun - 31 Jul 2008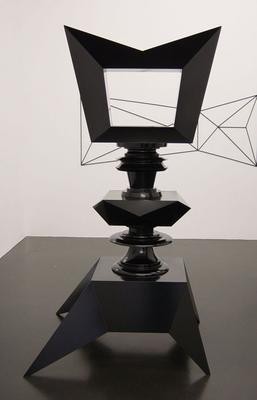 Julian Göthe | Immer nur lächeln (The Sublimes I), 2007, Bayerische Staatsgemäldesammlungen | 2007 Donation by Ingvild Goetz for the Sammlung Moderne Kunst
Julian Göthe as part of the Festival+
27.06.2008 - 31.07.2008

In collaboration with the Bavarian State Opera as part of Festival+
On the occasion of the Munich Opera Festival 2008, the Berlin-based sculptor Julian Göthe (*1966) has been invited to develop a project for the Pinakothek der Moderne and State Opera. Göthe is known for his eccentric sculptures that refer back to the elegant cubism of Art Déco. This vocabulary of form was applied particularly to the mise en scene of films in the 1930s und 1940s to create extreme atmospheric rooms of beauty and menace.