Olaf Metzel
07 Oct - 31 Dec 2017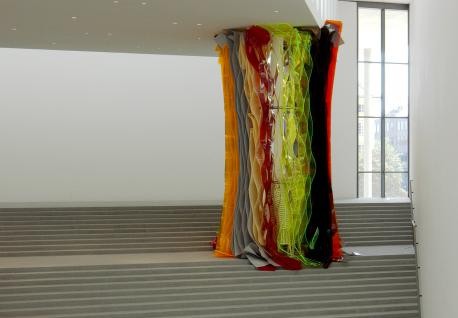 Olaf Metzel, Reise nach Jerusalem / musical chairs, 2002
Plexiglas, aluminium, plastic chairs, strobe light , Height 720 cm
Bayerische Staatsgemäldesammlungen, Sammlung Moderne Kunst in the Pinakothek der Moderne, Munich
Photo: Sibylle Forster
© Olaf Metzel / VG Bild-Kunst, Bonn 2017

OLAF METZEL
Reise Nach Jerusalem / Musical Chairs
07 October ‐ 31 December 2017

For the opening of the Pinakothek der Moderne, Olaf Metzel created a sculpture that highlighted the stage-like appearance of the staircase. The artist was particularly interested by the lone column on the mid-landing, which he dressed in a dazzling robe of colourful acrylic glass, in the centre of which he stacked deformed plastic chairs. Metzel named this eccentric work 'Journey to Jerusalem', (the West-German name for musical chairs) and it soon became one of the museum's most iconic works. This expansive work may be seen again on the occasion of the museum's 15th anniversary.