Cao Fei
HX
06 Jun - 26 Aug 2019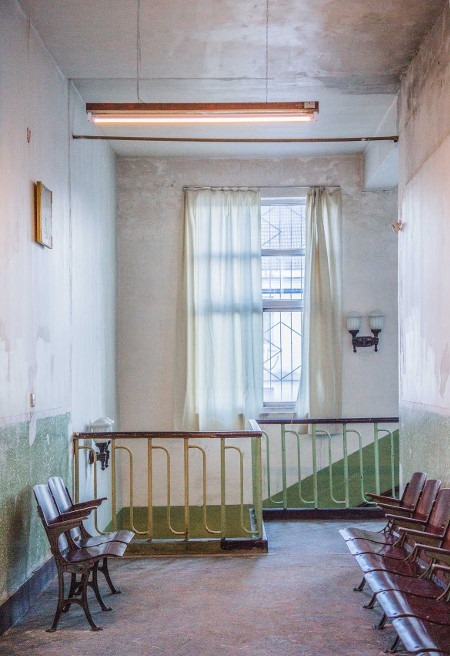 Cao Fei
Interior of Hongxia Cinema [Intérieur du cinéma Hongxia], 2018
courtesy of Cao Fei and Vitamin Creative Space © DR
CAO FEI
HX
6 June - 26 August 2019

The Centre Pompidou presents "HX", a solo exhibition of the Beijing-based artist Cao Fei, born 1978 in Guangzhou. The exhibition marks the international première of the research project "Hongxia", showcasing a selection of previously unseen works. This includes the feature-length film Nova, a collection of videos, photographs, archive documents, and installations of found objects.

The exhibition derives its title from the district where Cao Fei's studio is located in Beijing, near the now famous 798 Art District. Informally known as 'Hong Xia', it was once a major industrial hub, and many of its buildings and infrastructures were constructed during the 1950s with technical assistance from the Soviet Union. Most of them were built specifically to produce advanced electronics, and it was here that China's first computer was invented. The district has since undergone radically changes, with many factories ceased to operate and areas designated for redevelopment.

"HX" is undoubtedly Cao's most ambitious artistic output to date. With four years of meticulous research conducted by the artist and her team as the foundation, it embraces a macro perspective to reveal the rich and complex histories of a rapidly transforming neighborhood. And in doing so, Cao manages to (re)narrate and (re)imagine the past, the present and the future of a changing community swirling in the currents of our urbanized and globalized societies.

Many aspects of Cao Fei's practice are clearly influenced by the radical social and economic changes that have taken place in China over the last three decades. However, it also addresses more universal and transnational subjects such as labour, urbanisation and globalisation. Her artistic language straddles between reality and fantasy, transposing various elements from popular culture and media to reflect on our constantly shifting contemporary condition.

Cao Fei was a finalist of the Hugo Boss Prize in 2010, and she was named as the Best Artist at the tenth Chinese Contemporary Art Award in 2016. She also represented China at the fifty-second Venice Biennale in 2007.