Eileen Gray
20 Feb - 20 May 2013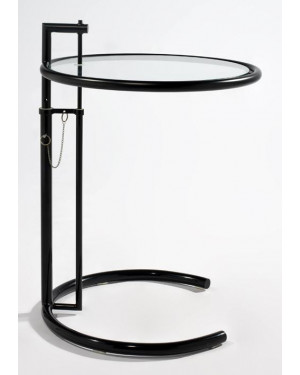 Eileen Gray
Table ajustable, 1927-1929
acier tubulaire laqué, acétate de cellulose, mobilier provenant de la Villa E 1027, Photo
EILEEN GRAY
Curator : Mnam/Cci, Cloé Pitiot
20 February - 20 May 2013

Eileen Gray's legacy consists of a number of unique, avant-garde artefacts, fragmentary archives – and a series of mysteries. To contribute to the understanding of this artist, Centre Pompidou is hosting an exceptional retrospective exhibition. Gray's work has often been split into two parts by critics, with decorative arts on the one hand and architectural modernism on the other. Now, Centre Pompidou is seeking to approach the artist's work as an unbroken whole, engaging as she did in drawing, painting, lacquering, interior decorating, architecture and photography.
Eileen Gray can be seen as a total creative artist in the spirit of Gesamtkunstwerk, combining different modes of expression, artistic fields and techniques in a call for a return to the emotions. Through her works, she expresses every aspect of our inner lives, seeking to embody and satisfy the feelings common to us all, whilst taking into consideration only "humanity of a certain era, with all that era's tastes, emotions and gestures" .
Gray was twenty-two years old in 1900. Independent and determined, the young Irishwoman was clearly keen to escape an overly Victorian family circle. She renounced marriage, preferring rather to enlist in an art school before leaving to live alone in France. Her father, an amateur artist, provided her with the means to achieve her ambitions by supporting her financially. Initially, Eileen Gray decided to attend the Slade School of Fine Art in London, attracted by its avant-garde teaching. Here, she met artists such as Percy Wyndham Lewis, Kathleen Bruce, Jessie Gavin and Jessica Dismorr, all of whom aspired to freedom and discovery of the world around them. Beyond the borders of Europe, they were keen to explore Egypt, the United States, India and Latin America. Being rather more relaxed than London in terms of morals, Paris became the capital of choice for artists. Gray moved there in 1902. That same year, she committed firmly to painting. One of her watercolours was exhibited at the Grand Palais in 1902, followed by a painting for the Society of French Artists' Salon in 1905. Based near Montparnasse, she first joined the Académie Colarossi and then the Académie Julian. At that time, she had no connections with the worlds of decoration or architecture. As a young woman, she mixed with British and American artists. Her friends included the artist Wyndham Lewis, portrait artist Gerald Festus Kelly, the occultist poet Aleister Crowley, photographer Stephen Haweis and his wife, the poetess Mina Loy, Kathleen Bruce and Jessie Gavin, and friends from the Slade School who had also come to Paris. Through Crowley and Bruce, she met Auguste Rodin, while through Haweis and Loy, she was introduced to the writer Gertrude Stein. She was there at the beginnings of imagism and vorticism, two major English artistic movements that influenced her work. From the poetic culture of imagism, which draws its inspiration from Japanese culture, as well as from Greek and Egyptian antiquity, Gray developed a particular way of "giving objects a complex ideogrammatic form in which cultural habits, references and functions all merge".
In 1910, Gray opened a studio at 11, rue Guénégau with Seizo Sugawara. This marked the start of her collaborative period, working with many others, which was to last over twenty years. Gray was joined by outstanding artists and craftsmen, including talented ebony-worker Kichizo Inagaki, who built pedestals for Rodin, and whose woodworking skills were second to none. In 1908-1909 she learned to dye and weave wool with her friend Evelyn Wyld in the wilds of the Moroccan Atlas; with the latter, she decided to open a second workshop devoted to tapestry weaving at 17-19, rue Visconti. Lacquered panels and tapestries became her new media of choice. From then on, each lacquered or woven artefact, first drawn and painted with gouache, also encompassed the density and thickness of the materials used. Gradually, work in two dimensions came to incorporate an element of depth.
In 1913, her lacquered panels began to be assembled, articulated – and mobile. Movable screens became a temporal marker of her delineation of space. Le Destin embodies this development in two key respects: it is three-dimensional, and also marks the artist's transition from figurative to abstract art.
From that point on, Eileen Gray came to be seen more as a decorator than as an artist. With the help of couturier Jacques Doucet, she was able to realise her desire to explore the design of furniture, and produced her most outstanding lacquered items of furniture. Following in the footsteps of American decorating pioneer Elsie de Wolfe, from the 1920s onwards Gray began to create her first interior environments for Madame Juliette Mathieu Lévy. She opened her Jean Désert gallery on May 17, 1922 at 217, rue du Faubourg-Saint-Honoré, from which she developed a predominantly Parisian and American commercial, cultural and relational network. She did not refer to herself as a designer or decorator: her calling cards simply bore the words: "Lacquered screens, lacquered furniture, wooden furniture, dyed materials, lamps, divans, mirrors, carpets, apartment decoration and installation". Romanian architect Jean Badovici, founder of the avant-garde review L'Architecture Vivante, may have understood the artist better than anyone else, describing her as knowing how to establish "an atmosphere of three-dimensional infinity with a myriad of interlocking planes, in which every item can be apprehended only as one part of a much greater mysterious, living whole. For Eileen Gray, space is simply a medium that can be modelled and transformed as the decorator requires, offering the artist an infinite range of possibilities."
Jean Badovici gave Gray the energy and confidence she needed to work with him, from 1926 to 1929, on building what is now universally recognised as one of the masterpieces of Modernism: Villa E 1027. From her beginnings at the Slade School, through to E 1027, Eileen Gray had never had any training in architecture, except indirectly through contemporary and past issues of L'Architecture Vivante magazine.
After being praised to the skies by avant-garde critics in the 1920s, Eileen Gray was largely forgotten until 1968, when historian Joseph Rykwert restored her honour in the review Domus. Thanks to Cheska Vallois, Gilles Peyroulet, Prunella Clough and Peter Adam, from the 1970s onwards many of her items of furniture were rescued. In 1972, the sale of Jacques Doucet's collection marked her re-emergence in the world of decorative arts; in 2009, the sale of Pierre Bergé and Yves Saint Laurent's collection made her one of the most highly-acclaimed designers of the twentieth century. Today, Gray's works are preserved in museums and private collections worldwide.
For this exhibition, Centre Pompidou has concentrated on Gray's works for the Monte-Carlo Boudoir, the Rue Bonaparte bedroom, E 1027 and the artist's own villa, Tempe a Pailla. In the form of period rooms, this reconstruction allows visitors to gain a better understanding of Gray's art and her "desire to create a purely ideal space; [...] one that is genuinely so because it responds to the deepest needs of the soul and takes into account the essential truth that lies at the core of all artistic exploration of our age: a material body is not an immutable entity but the sum of potentialities".