Man Ray, Picabia et la revue « Littérature » (1922-1924)
02 Jul - 15 Sep 2014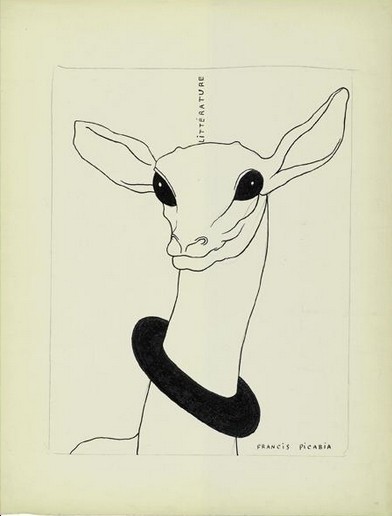 Francis Picabia
Sans titre, projet de couverture pour la revue "Littérature" (1922-1924)
mine graphite et encre sur papier
31,4 x 24,1 cm
MAN RAY, PICABIA ET LA REVUE « LITTÉRATURE » (1922-1924)
2 July - 15 September 2014

Curator : Mnam/Cci, Christian Briend, Clément Chéroux

The exhibition "Man Ray, Picabia et la revue Littérature (1922-1924)" sheds light on a crucial period in the history of modern art, between the end of the Dadaist movement and the advent of Surrealism, and is based on the twenty-six covers designed by Francis Picabia for the review Littérature in the early Twenties. Until very recently, only their printed version was known. In 2008, Francis Picabia's original drawings, fifteen of which has never been exhibited, were revealed by the 1900-2000 Gallery, to which Aube Elléouët-Breton had entrusted the works, which had been discovered in an envelope. Thanks to support from Sanofi, the sponsor for the acquisition, this extraordinary set has now entered the Centre Pompidou collections, and is unveiled to the public for the first time. This exhibition also highlights the contribution of Man Ray. The American photographer had moved to Paris in 1921, and Littérature was where he first disclosed images that have become icons of photographic modernity, like Le Violon d'Ingres and Marcel Duchamp's L'Élevage de poussière. The inside pages of Littérature also contained works by Picasso, Max Ernst and Robert Desnos.

In 1922, André Breton remained the only one in charge of the review, after the departure of Louis Aragon and then Philippe Soupault, with whom he had founded it in 1919. To mark the review's change of direction, Breton decided to replace the cover image created by Man Ray with drawings – different each time – by Francis Picabia, to whom he gave carte blanche for each issue. In the artist's career, these drawings came between the mechanomorphic works and the Espagnoles. Their highly linear graphic style was Picabia's ironic response to the vogue of the "return to Ingres" advocated by the former Cubists, whom he regularly mocked. Several covers can thus be compared with the world of the master of Montauban – for example, his irreverent interpretation of the Bain turc. Picabia also drew on religious imagery, erotic iconography, and the iconography of games of chance. These ink drawings also reveal Picabia as an animal artist, as horses, baboons, tigers, dogs and deer, probably inspired by books for laymen, rub shoulders with various figures from the world of the circus or the musical. Several drawings seem to be of the authors of the review itself, to which Picabia made a regular literary contribution. The artist made play with pronounced contrasts of black and white, reminiscent of his "Ripolin" paintings of the same period, like the Dresseur d'animaux, now in the Centre Pompidou, which has similar iconography.