Varda
11 Nov 2015 - 01 Feb 2016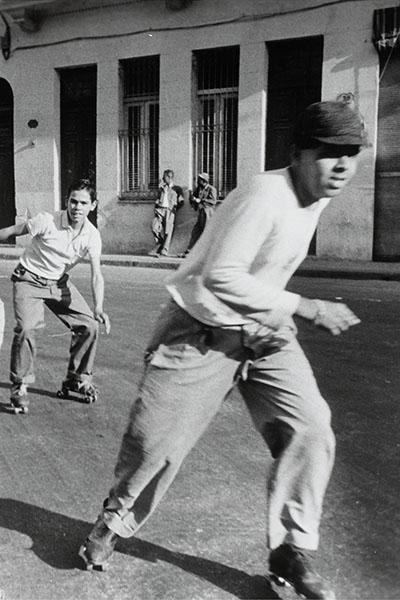 © Agnès Varda
Cuba, 1963 (détail)
Coll. Centre Pompidou
© Centre Pompidou, Mnam-Cci, G. Meguerditchian / Dist. RMN-GP
VARDA
Cuba
11 November 2015 - 1 February 2016

Curator : Mnam/Cci, C.Cheroux, K.Lewandowska

At the end of 1962, Agnès Varda was in Cuba. Four years previously, Fidel Castro and his Movimiento 26 de Julio had toppled the pro-American dictator Fulgencio Batista. After the abortive landing in the Bay of Pigs, the imposition of the economic embargo and the missile crisis, tension with the United States was at its height. In October 1962, photographs taken by an American reconnaissance plane had revealed that the Soviets were building nuclear warheads on the island's launch pads. Only intense international negotiations prevented this sudden "warm-up" in the Cold War in the heart of the Caribbean from triggering another world war.
Shortly after this event, in December 1962, Agnès Varda arrived in Havana, on the traditional trip of French artists and intellectuals to Cuba. Jean-Paul Sartre, Simone de Beauvoir, Gérard Philipe and Chris Marker had already been there; Henri Cartier-Bresson and René Burri were there at the same time as she was; Michel Leiris, Marguerite Duras and several others would soon make their appearance. In this Caribbean island, Varda was fascinated by the momentum of popular mobilisation that had made revolution possible. But she was far from naïve, and remained critical of the blind alleys and contradictions of the regime. One of her pictures makes Castro look like a colossus with wings of stone. In Havana and its surrounding area, she discovered an astonishing mixture of omnipresent politics and unbridled sensuality. In her view, Cuba represented the first-ever meeting "of socialism and cha-cha-cha". She took thousands of photographs, capturing the nonchalant gait of Cuban women, sugarcane cutting, improvised street dances and the Máximo Líder's interminable speeches to adoring crowds. Her pictures make skilful play between composition, depth of field and foreground, and evince the quality of an eye both sharp and constantly in movement.

On her return to Paris, the film director filmed her photographs on the caption stand. Compiled as sequences, the fixed images are thus brought to life again, to the rhythm of congas and a text read by Michel Piccoli and Varda herself. The 30-minute film, released in May 1964, was entitled Salut les Cubains, echoing the flagship Yé-yé magazine Salut les copains created two years earlier. It was awarded a bronze metal medal at the Venice documentary film festival. For the first time, the Centre Pompidou exhibition enables visitors to see the astonishing photographs taken by Varda in Cuba, which recently entered the museum's collection. By placing them in dialogue with the film, screened in a loop in the exhibition area, the project recreates the tension between the fixed and moving image which is central to Agnès Varda's work.