Gianni Colosimo
02 Jul - 04 Sep 2011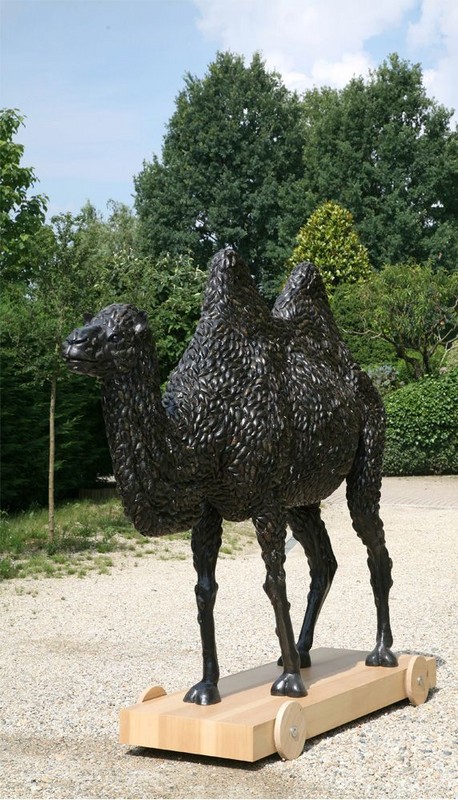 © Gianni Colosimo
Le chameau de Marcel, 2011.
Armature métallique, résine, coquilles de moules
250 x 220 x 90 cm
GIANNI COLOSIMO
Contemporary Art Told To Children
Curator : Patrick Amine
2 July - 4 September 2011

This summer, from 2 July to 4 September, the Centre-Pompidou Metz presents a project by the Italian artist Gianni Colosimo.
After a series of live performances, the versatile Studio space is hosting "Contemporary Art told to Children" as its first exhibition.

An exhibition for children from 8 to 80

Gianni Colosimo takes a new look and reinterprets emblematic works of the 20th and 21st centuries. "These works were chosen because they can be instantly transposed into the world of children. They tell stories. The artist brings them back to life and, in certain cases, renews them by exploring their numerous facets. The exhibition takes an original and lighthearted view of contemporary art," curator Patrick Amine explains.

The exhibition actively engages visitors, both children and adults, by encouraging them to use their imagination. Images, sculptures and installations reveal their surprising, offbeat and humorous nature. These works are also an introduction to the history of art in the latter half of the twentieth century and early twentyfirst century.

"My input as an artist is to suggest a new way of seeing the works. Children can engage with them in a fun way, using their reasoning to make their own interpretations. The original reference works are the catalyst. Some were imagined by the great masters of contemporary art. This is an aesthetically informative exhibition, intended to interest children, and adults too, in the wonderful and sometimes slightly obscure world of contemporary art," says Gianni Colosimo.

Gianni COLOSIMO - biography

Gianni Colosimo (b. 1953, lives and works in Turin, Italy) began his artistic career as a performance artist at Galleria Giorgio Persano in Turin, one of Italy's most prestigious galleries, with Freud mein freund (1981), and at the Bologna Performance Festival and the ICC in Antwerp. These were followed by Il grande sonno della trapezista, at the Galleria Nazionale d'Arte Moderna in Rome, Nebbia di Latte at the Castello di Rivoli (Turin, 1984), and Gli amori dei sette peccati (1990). He also wrote a dissertation on Yves Klein and the Theatre of the Void. After a parenthesis, he created Wallpaper (il vortice del desiderio è privo d'orizzonte) (2006), an installation at the Galleria Pack (Milan, 2006), for which he papered the entire gallery with dollar bills. He twice took part in the Sculpture Biennale in Carrara, in 2008 and 2009. He publishes anonymous aesthetic ads in art journals such as Artforum, Exibart and Mousse. He has been invited to take part in the 2011 Venice Biennale in the Italian pavilion, and in the Alessandria Biennale.


Patrick AMINE, curator - biography

Patrick Amine is an essayist, art critic and literary critic with Artpress, La Revue des Deux Mondes and L'Infini. He studied composition at the Marseilles Conservatory of Music. A curator of exhibitions in Europe for fifteen years, he was awarded the Prize for Cultural Innovation for Nature Mutante (Auch, 1994). He has programmed artists such as Jan Fabre, N+N Corsino, Joel-Peter Witkin, Loris Cecchini and Pascal Bernier. In 2005 he curated César, Portrait Intime (Dessins inédits) at the Botanical Museum in Brussels. Again in Brussels, in 2007, he showed drawings by Hervé Di Rosa and wrote an essay on his work, Journal modeste (published by Buchet-Chastel). He also curated Un siècle d'art russe et soviétique at the Musée des Ducs de Wurstemberg, in Monbéliard (2008). A literary consultant for France Culture-Radio France (1999-2004) and a lecturer
at Iselp (Brussels) and Ensba (Paris), he is the author of Une Vie, une déflagration, Entretiens avec Louis Calaferte (Denoël) and Petit éloge de la colère (Gallimard-Folio, 2008).