Edgar Arceneaux
12 May - 18 Jun 2011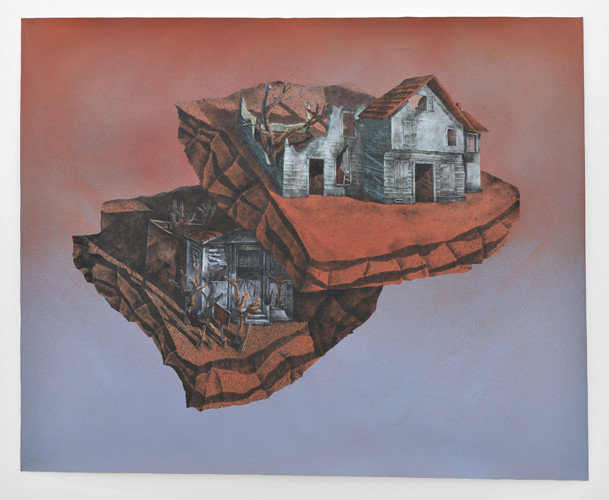 © Edgar Arceneaux
Blind Pig Bank, 2011
acrylic, charcoal, graphite, pastel on paper
147 x 179,3 cm - 57 7/8 x 70 5/8 inches
EDGAR ARCENEAUX
Blind Pig City
12 May - 18 June, 2011

Blind Pig City is a solo exhibition of new drawings by American artist Edgar Arceneaux. The exhibition continues an investigation into culture in which the city of Detroit functions as an important anchor. This investigation, initially begun through a conversation between Edgar Arceneaux and art historian Julian Myers, looks into a history of committed urban struggle in the U.S. that is today half-forgotten, repressed, or demonized. Detroit, as location of the largest race riots in this country and more recently as a symbol of economic decline, serves in the exhibition as a focal point to understand how social and economic forces overwhelmed and fundamentally changed the lives of individual people. By drawing comparisons between this very specific location and historical moment to earlier remnants of Western civilizations Arceneaux creates historical connecting points that reveal truths of modern reality, attesting both to its transitional nature and to its primitive stage. In a series of large-scale graphite drawings Arceneaux features burned-out ruins of pubs, known historically as «Blind Pigs», whose remnants are ubiquitous throughout Detroit today. In the drawings these ruins float on chunks of land - quietly floating strata - through an undefined space, often folding two time zones, present and past, into one physical reality.
Myers and Arceneaux are currently developing "Mirror Travel in the Motor City" a seminal book looking at the relationship between the artist Michael Heizer's sculpture "Dragged Mass Displacement", the Detroit Riots and the Detroit techno groups Underground Resistance and Drexciya. Blind Pig City is the latest extension of Myers and Arceneaux' ongoing conversation.
Edgar Arceneaux graduated with an MFA from the California Institute of the Arts, Valencia, in 2001. Edgar Arceneaux's work will be featured in a solo exhibition in 2011 at the Museum für Gegenwartskunst in Basel, Switzerland. This last years he has had one-person exhibitions at The Museum of Contemporary Art, Detroit (2011) ; Watts House Project (Public Art Project), LaxArt, Los Angeles (2008) ; ArtPace, San Antonio, TX (2006); The Kitchen, New York; San Francisco Museum of Modern Art (2005); Witte de With Museum, Rotterdam (2004); Hammer Museum, Los Angeles (2003); Studio Museum à Harlem (2002). His work was included in the 2008 Whitney Biennial at the Whitney Museum of American Art, New York, in the «California Biennial 2008» at the Orange County Museum of Art, California, and in the 2nd Moscow Biennale (2007). Arceneaux's work was featured in several group exhibitions: The Artist's Museum:
Los Angeles Artists 1980-2010, MOCA, Los Angeles (2011); Moving Images, Musée Ludwig, Cologne; Huckleberry Finn, CCA Wattis, San Francisco (2010); Wallworks ; Second Nature: The Valentine Collection, Hammer Museum, Los Angeles (2009); Philosophy of Time Travel, Studio Museum Harlem (2007); Tomorrowland, Museum of Modern Art, New York, (2006); The Imaginary Number, KW, Berlin (2005); Quicksand, de Appel, Amsterdam, NL (2004); True Stories, Witte de With Museum, Rotterdam (2003).