Nathan Mabry
06 Nov - 23 Dec 2010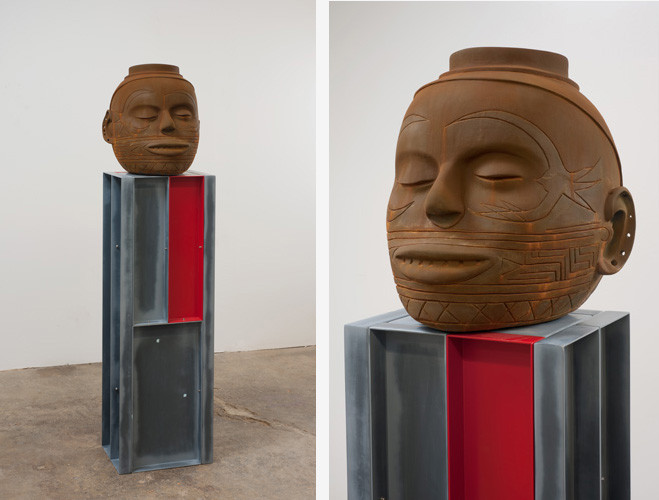 © Nathan Mabry
400 % (Death Grin/ Klee Face), 2010
terra-cotta and painted aluminium
175 x 40 x 30 cm 68 7/8 x 15 3/4 x 11 3/4 inches
NATHAN MABRY
06.11.2010 - 23.12.2010

«Nathan Mabry's works gain a certain autonomous Gothic or even expressionistic sensibility as unified objects in their own right. We can choose to approach them intellectually, to deconstruct the elements of the construction and be amused or consciously contemplate their more theoretical aspects. Or, we can choose to suspend our disbelief and accept them as unified objects in which case they are unexpected and offer an entirely spontaneous emotive quality.» (Ken Pratt)

In his first solo exhibition «Like Really» at Praz-Delavallade, Los Angeles-based artist Nathan Mabry presents sculptures, drawings and photographic works activating a divergent range of North American art-making, including his own. Ideas and forms derived from Native American ceremonial and decorative objects, Mixtec mosaic skulls and Minimalism are interwoven with conceptualism and reverence, subtle humor and formal conceit, creating a gestalt experience that constantly upends and repositions the viewer's focus. Structures of logic are important to Mabry and serve as a fulcrum for develpoing a balance of uncanny similarities in dissimilar objects.

The group of sculptures titled «400%» included in the exhibition derive from ceramic head pots sourced from the indigenous late Mississippian Valley culture (1450-1550) of northeastern Arkansas and southeastern Missouri. The vessels are placed on top of stacked forms that close inspection reveals to be based on the late Lascaux boxes of Donald Judd (1928-1994) born in Missouri. Mabry's utilization of both languages - minimalism into specific colors and forms; early American Mississippian culture into figurative elements - compels a formal analysis, an intellectual re-examination of various art processes.

A new series of photos «About Face» use an approach of associative abstraction. Mabry has taken photographic prints of Native American shell gorgets and attached a predetermined assortment of talisman. These hanging elements from the circular shell votive invoke a quality reminiscent of dream catchers while simultaneously becoming jewelry - essentially anthropomorphizing the image. These framed «objects» hark back to the imagery of Dada and Surrealism.

In a continuation of the «Mosaic Skull» series Mabry has carefully rendered the archeological artifact in colored pencil and applied opaque black and white decorative crystal to the teeth. Curator/critic Chris Bedford writes: "Sacred and irreverently profane, camp and straightforwardly beautiful, Mosaic Skull is a drawing with sculptural presence that exists as a fastidious record of Mixtec extravagance and as a canny riff on contemporary modes of self-adornment".

Nathan Mabry traverses the grotesque to the sublime, abstract to figurative-he plays with art historical icons while questioning ideas of the spiritual, the metaphysical, life, and death.

Nathan Mabry received a BFA from the Kansas City Art Institute and a MFA from the University of California, Los Angeles. His work has been featured in Red Eye: Los Angeles Artists from the Rubell Family Collection at the Rubell Family Collection, Miami, FL and Thing: New Sculpture from Los Angeles at the Hammer Museum, Los Angeles, CA. His work is included in the following collections: Whitney Museum Of American Art, New York; Hammer Museum, Los Angeles; LACMA, Los Angeles; Museum of Contemporary Art San Diego, San Diego; The Saatchi Collection, London; Rubell Family Collection, Miami.