Tjorg Douglas Beer
13 Apr - 01 Jun 2013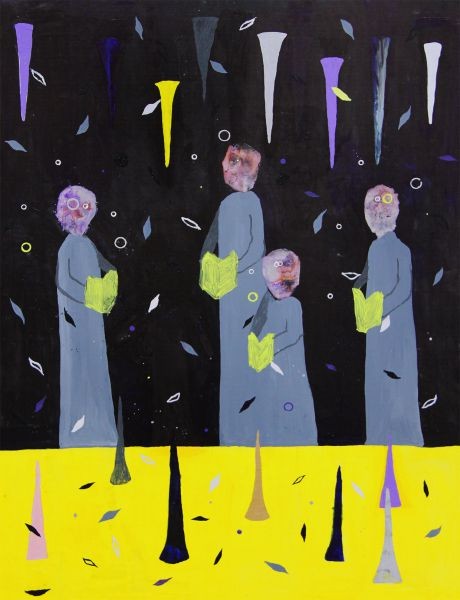 © Tjorg Douglas Beer
Scheinheiligen / Speciousnesses, 2013
Acrylic paint, lacker, ink, marker, oil paint on canvas
210 x 160 x 3 cm
TJORG DOUGLAS BEER
Speciousnesses
13 April – 1 June 2013

Tjorg Douglas Beer was born 1973 in Lübeck and raised in Hamburg. He studied in Hamburg at Hochschule für Bildende Künste. Since then his work has been shown internationally in museums and galleries e.g. at Kunstverein Hamburg, Weserburg, Museum für Moderne Kunst Bremen, Project Space Kunsthalle Wien, Timothy Taylor Gallery, London, Tate Modern, London, X-Initiative, New York, Hokkaido Museum of Modern Art, Sapporo, Neue Nationalgalerie im Hamburger Bahnhof / basedinberlin, Palais de Tokyo, Paris. Beer has had solo exhibitions e.g. at Kunsthaus Hamburg, Kunstraum Innsbruck, Stadsgalerij Heerlen, Contemporary Art Institute Sapporo, Institute for Modern Art Nuremberg, Mitchell-Innes & Nash, New York.

His work is represented in collections in Europe and the USA, i.e. Falckenberg Collection, Hamburg, CAP Collection Southhampton, Bucksbaum Collection, New York, Herbert F.Johnson Museum of Art, Ithaka, NY.

During the last years Beer has developed a wide repertoire of types of work. In his collages, paintings, sculptures and installations he generates sceneries around the perception of the realities that surround him, i.e social, political and personal themes, that he turns into an overdrawn new order.

By doing this he acts less as a pseudo-scientist that developes art history, more than that his work complies to the work of a musician that transforms various layers of thoughts in texts and arrangements.

In SCHEINHEILIGEN / SPECIOUSNESSES Beer shows new collages, paintings and sculptures.

The ceramic figures are casts of pale-looking children shop window puppets that are painted and glazed and combined with contemporary materials like clothes, plastic bags. They are representatives of a stagnating youth movement and utopical way of thinking; poor-fascistoid children figures with mutated dog creatures, militant homeless, beggars or a fortune-teller on an oil drum.

Collages from the series THE MIND OF THE CEO are based on pictures of faces of these puppets that he combines with cut-outs of models, diamonds, fragments of lifestyle magazines combined with portraits of dictators.

The paintings show portraits and landscapes.