Iñaki Bonillas
30 Nov 2007 - 19 Jan 2008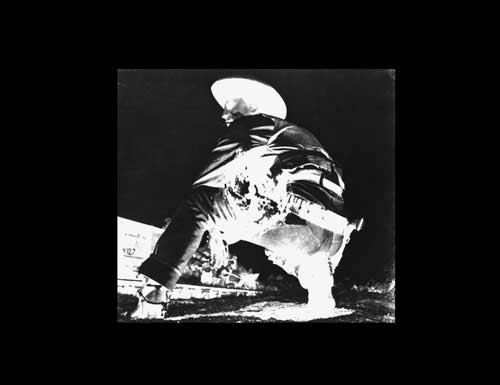 © Iñaki Bonillas
A sombra e o Brilho, 2007
74 typewritten texts on paper, 19, 5 x 13 cm each
24 b/w kodalithts in lightplates, 30 x 42 cm each
Detail of b/w kodalith
IÑAKI BONILLAS

November 30 - January 19

ProjecteSD presents the second solo show of young Mexican artist Iñaki Bonillas, A sombra e o brilho. Bonillas shows a new installation from texts and photographic images found in the J.R. Plaza archive. Reactivated once again in the hands of the artist, the archive appears as an endless source of new images and narratives.

A translation from one language to another
Lawrence Weiner

My grandfather, J. R. Plaza, used to be an enthusiast of the –imaginary— life style of the western American cow-boy. Watching a western film played on an evening TV channel, looking through a brochure of cow-boy guns, posing to be photographed disguised as John Wayne in a stark landscape, or simply dreaming of becoming a real cow-boy, were his most favourite activities.
The day he figured out the way to make his dream real, he did not miss the chance and headed to Wyoming. In less than 9 days he found himself in Rock-Springs, ready to live the adventure of becoming a cow-boy. Less than 30 days went by and on May 18th, 1945, he wrote in his diary: "this is not like the Academy, I ́m totally fooled". Two months later he would return to Mexico City to continue imagining western life from the confort of the photography studio.
The confrontation, present in the archive, between the bitter reality, as told in his diary, and the warm photographic fiction in which my grandfather preferred to immerse himself, made me develop this project, that is about, fundamentally, the opposition of the two languages contained in the archive: image and text; which represent in this case, respectively, fantasy and fact.
The general idea of the work came to shape after finding a photograph in which my grandfather appeared as a cow-boy in a duel, under which I found a magazine clipping where same scene was depicted as a drawing. The photographic "transcription" that my grandfather did from this illustration, together with my discovery, strangely in Portuguese language, of the story by Jack London, The shadow and the flash, triggered the project, which consisted, in its first stage, precisely of transcribing both the diary and the photographs in the archive. To transcribe the diary, I found most appropriate to use a typewriter machine, to point out the testimonial character of the facts narrated, as opposed to the fictive images which, contrarily, I decided to turn even more blurred through a photographic process that allows to make a negative of a positive, where the front and the back sides of the image blend. The writings inform about reality, whereas the images evoque dreams.
Rather than a simple confrontation between fictive –or imagined- and real, in A sombra e o brilho both dimensions cross and dialogue, as it actually occurs in real life. Thus, the sphere of the real, transformed in a straight horizontal line of 74 short chronicles (laid out all along one gallery wall), finds its counterpoint in the verticality of a unique column from which (my grandfather ́s, or anyone else ́s) fantasies hang. Fantasies that operate as the daily sustainers of a reality that is not always sweet.
Iñaki Bonillas (Mexico DF, 1981) has shown his work in exhibitions such as The Air is Blue, Casa Estudio Luis Barragán, México, D. F (2002), Sonsbeek 2001, Arnhem, Little Hystory of Photography MUHKA, Antwerp (2003), Utopia Station, 50th Vence Biennale (2003), Los usos de la imagen: fotografía, film y video en La Colección Jumex (2004), Archivo Muerto, _h4th, México D.F (2005), Fundación COFF, San Sebastián, and the CGAC in Santiago de Compostela (2006). His work has been selected by curators such as Hans Ulrich Obrist, Guillermo Santamarina, Jan Hoet, Dieter Roelstraete and Osvaldo Sánchez to mention a few. His installation El Topoanalista is currently on view at Matadero art center, Madrid (until January 20, 2008).