Peter Piller
18 Mar - 30 Apr 2016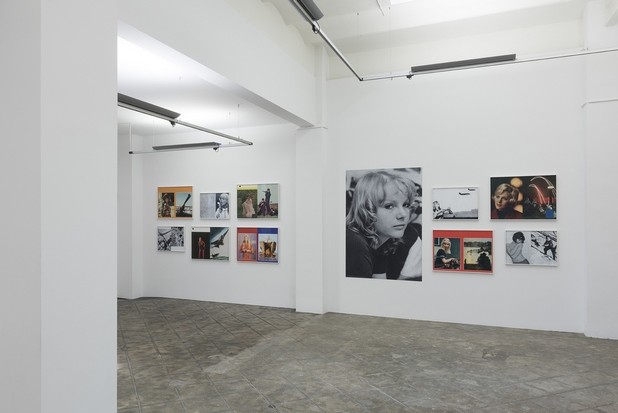 Exhibition view: Peter Piller: Don't hate the player. Hate the game.
ProjecteSD, Barcelona, 2016
Photo: © Roberto Ruiz
PETER PILLER
Don't hate the player. Hate the game.
18 March - 30 April 2016

Peter Piller was born in Fritzlar, Germany, in 1968. He currently lives and works in Hamburg, Germany, where he was a student at Hochschule für Bildende Künste Hamburg, between 1993 and 2000. He has been a professor at the HGB – Academy of Visual Arts Leipzig since 2006.

His awards include the Edwin Scharff-Preis of the Hamburg Ministry of Culture (2011), the Ars-Viva- Förderpreis of the Bund Deutscher Industrie (2004), the Rubens-Förderpreis of the town of Siegen (2003) and the Albert-Renger-Patzsch-Preis of the Dietrich Oppenberg-Stiftung Essen (2003).

Exhibiting extensively since the late 1990's, his recent solo shows include the exhibition Belegkontrolle (Document Control) held at the Fotomuseum Winterthur and the Centre de la Photographie Genève in 2014 with further stations at the Städtische Galerie Nordhorn and the Kunsthalle Nürnberg in 2015 and Kunst Haus Wien, Vienna, Austria, currently on view. Other important solo exhibitions have taken place at the Kunstverein Braunschweig (2011), the Kunstmuseum Bonn (2009), the Kunsthaus Glarus (2007), the Witte de With Center for Contemporary Art Rotterdam (2005/06) and the Museum für Gegenwartskunst Siegen (2004). His work is currently on view at the exhibition L'image Volée, curated by Thomas Demand, for the Fondazione Prada, Milan, Italy.

Among his group exhibitions in Spain we highlight Anti-Photojournalism, La Virreina Centre de l'Image, curated by Carles Guerra, Barcelona (2010); Pequeña historia de la fotografía, curated by Manuel Segade, CGAC, Centro Galego Arte Contemporanea, Santiago de Compostela (2009) and O futuro de actualidade, also at the CGAC (2006); Periferiak 07/ Edición especial, Sala Rekalde, Bilbao (2007); Lugares Comprometidos: Topografía y Actualidad, curated by Sérgio Mah, Fundación Ico, PHE 08, Madrid (2006); Memoria y Tiempo, Fundación Foto Colectania, Barcelona (2005).

Piller has published his ten-volume set of artist's books of the Archive Peter Piller as well as other artist's books and catalogues at Revolver Publishing, JRP Ringier and other important publishers.

Public collections (selection): Bundeskunstsammlung Berlin, Staatliche Kunstsammlungen Dresden – Kupferstichkabinett, Hamburger Kunsthalle, Museum Ludwig Köln, Museum für Gegenwartskunst Siegen, San Francisco Museum of Modern Art, Centro Galego de Arte Contemporánea (Santiago de Compostela), Colección CA2M, Madrid, Fotomuseum Winterthur.