Pierre Leguillon
16 Nov 2012 - 15 Dec 2013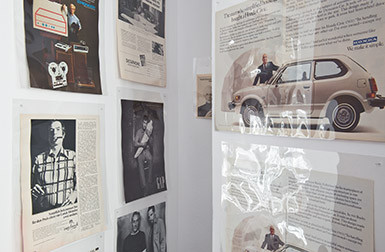 © Pierre Leguillon
Ads, 2012
20 magazine pages, variable dimensions, unique
Image credits: Roberto Ruiz
PIERRE LEGUILLON
The Umbrella Corner (2/7)
Curated by Moritz Küng
16 November 2012 - 15 December 2013

We are pleased to present The Umbrella Corner (2/7), the second presentation of the exhibition project conceived and curated by Moritz Küng. The Umbrella Corner series will run parallel to our year exhibition program and will extend until June 2013.

The title of this exhibition series refers to a strangely shaped and often overlooked corner at the entrance of the gallery, an indentation of a wall measuring only 60 x 60 cm in surface and that has been occupied so far by a glass stand for umbrellas. Moritz Küng establishes in that very spot a site and content specific project by inviting six artists to react on the limitations of the spatial condition as well as to a particular key work of the conceptual art movement: the installation Where's Al? by North American artist Allen Ruppersberg produced in 1972 and today part of the Museum of Modern Art collection in New York. By doing so, the sequence of exhibitions will develop itself a narrative, an ambiguous mystery story about avoiding, disappearing, hiding, including, excluding and remembering.

The Umbrella Corner 1/7 (Where's Al?) kicked off end of September with the in-situ wall paper work Before and After by Dutch artist Willem Oorebeek.

Paris based French artist Pierre Leguillon - known for his creations of slideshows, lectures, objects and assemblages, in which he is using a methodology based on accumulation, selection and sequencing - will present for The Umbrella Corner 2/7 (Al's missing a good time) his new work Ads. The work consists of a series of vintage advertisements where several known artists appear associated with a commercial product: Marcel Broodthaers for Van Laack shirts, Salvador Dalí for Old Angus whisky, Andy Warhol for Vidal Sassoon shampoo... On the opening reception Leguillon will install the printed ads in a performative action at the 'umbrella corner' by hanging and reading up loud the promotional text of each campaign. Ads indirectly questions the subjective value of a product, respectively of an artist, as well as the non-presence of others and in particular the one of Al. As a refined icon lover, Pierre Leguillon not only identifies himself elegantly with the Appropriation Art movement, but acts as well as a flâneur - or within the given context as a guide! - through his own Journal Intime, his cosmological archive of historical images.

The next in the series, The Umbrella Corner 3/7 (Too bad Al's not here) is scheduled for 18th December with a new work by Belgian artist Sophie Nys.