Raimond Chaves & Gilda Mantilla
06 Jun - 14 Sep 2007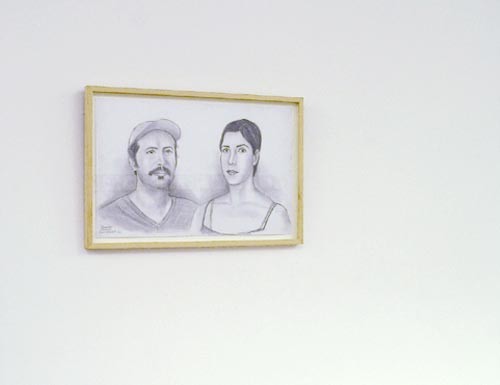 © Retrato Callejero, 2006
Installation view, ProjecteSD
(drawing of Raimond Chaves and Gilda Mantilla, anonimous authors)
RAIMOND CHAVES & GILDA MANTILLA
"Mal De América (Dibujos De Viajes)"

PREVIEW: JULY 6, 19:30 H
JULY 6 – SEPTEMBER 14 (GALLERY CLOSED FROM AGOST 4 TO 27)
SUMMER GALLERY HOURS: MONDAY TO FRIDAY FROM 11:30 TO 20:30

MAL DE AMÉRICA (Morbus Americae)

"... "Mal de América" is a sickness of the spirit that affects certain inhabitants of the Old World. It manifests as a longing for spacing beyond the Ocean and the know, to reach a new world: an ambiguous zeal, indeed, denied by the yearning for going back to Europe and reaffirmed by the irresistible, even fatal, impulse to cross the Atlantic over and over again to eternity..."

"Old cosmographers from Aristotle to Ptolomy, assured that of the five circles in which the Earth is divided, the third one, corresponding to the "torrid" zone, was not habitable. "Poor the Europeans who dared to approach the equinoctial line! Medieval wise men (...) stated that sun ́s rays would immediately transform them in blacks. (...) but, how to resist the call of the "torrid zone" if in one of the mountains forming it, at the farthest end of Occident, Earthly Heaven was found?

MAL DE AMÉRICA. LAS OBRAS Y LOS DÍAS DE AGUSTÍN CODAZZI, 1793-1859. Giorgio Antei

Mal de América (Dibujos de Viajes) is the title chosen by Chaves & Mantilla to present in ProjecteSD a work that they have doing for the last two years, where the act of drawing is linked to a reflection about a specific territory. This project known as Dibujando América (Drawing America) results from two trips to Latin America. A first trip took place from May to September 2005 along Venezuela, Colombia, Ecuador and Northern Peru. A second trip, in June 2006, followed the river to the triple border area of Peru, Colombia and Brazil. The project is built through a compilation of drawings, sketches, notes, photographs, interviews, research on maps, books, magazines, records, and other materials found in the different places the artists travelled through. From this pool, Chaves & Mantilla interpret genres and traditions associated to the concepts of travel drawings, cartography, landscape and portraiture.
As the artists put it: "We travel leaving our homes, but we also travel with the news, readings and story-telling. We think that drawing underlies everything we do and that it functions as an archive and a medium to reach knowledge. Drawing enables us to construct an image of the world and to rethink this world in different imagined ways".
The project Dibujando América has been approached differently in each of its previous presentations. In Casa de América (Madrid, 2005) and the Museum Patio Herreriano (Valladolid, 2006) the focus was put on the travelling as a way for learning and re-knowing as well as it showed the limitations of any desire to belong to the places they travelled around. In its exhibition at the 27a Bienal de Sao Paulo (Brasil, 2006) the emphasis was on the "dislocation" idea as a means to express the impossibility to cover such an immense territory. At the Centro Cultural de España in Lima (Peru, 2007) the concept was to decompose the idea of landscape as a constructed context and a space of process and tension.
In the exhibition at ProjecteSD, Mal de América (Dibujos de Viajes) is presented as an irony on both the morbid role entailed by Chaves & Mantilla as impenitent obstinate draughtspeople and the Latin American imagery still dealing with contradictory visions of "hell" and "heaven".
Raimond Chaves has shown his interest and compromise with the Latin American context in earlier projects such as Los Ladrones de Dinamita, Bogotá-Barcelona, 2000, La Pura Oscura, Bogotá 2004 and Maestro Plantillero, Lima, 2004. He has also been involved in various publications such as Hangueando, 2002-2004, Enviado Especial, Cartagena de Indias, 2007 and Puñeta!, 2007 or El Toque Criollo, 2002-2006), where he developped a narrative through the History of Latin America from record covers collected from flea markets. His work has been recently shown at the Frankfurter Kunstverein in the exhibition Whenever it starts is the right time, curated by Chus Martinez (2007).
Gilda Mantilla ́s work reflects upon the production and distribution of "images of places" as postcards: Lima*Perú Para Llevar, 50th Venice Biennial, 2003 and La Perla, Trienal Poligráfica del Caribe, 2005, the socialization and circulation of local knowledge Talleres Móviles; Puerto Rico, 2004, or the imagery and local memory as in La Sinfonía del Trapeador, Lima, 2001.
Chaves & Mantilla have collaborated in the following projects: Construyendo Puentes Entre Lenguas, Amsterdam 2001, Estación Móvil Barrio Venecia, Bogotá, 2003, Hangueando Periódico Con Patas, Puerto Rico, 2003 and Gabinete de La Curiosidad; Lima 2006. They live and work in Lima, Peru.