Raimond Chaves y Gilda Mantilla
04 Jun - 04 Sep 2010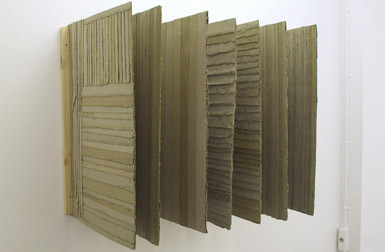 © Raimond Chaves y Gilda Mantilla
Muestras, 2009
8 collages, recycled carboard, wood
110 x 85 cm each, unique work
RAIMOND CHAVES Y GILDA MANTILLA
"Observaciones Sobre La Ciudad De Polvo"
Opening: June 4, 19:30 h. Exhibition: 04.06 > 04.09.2010
Tuesday to Saturday, 11:00 to 19:00 h
On Tuesday, June 8 at 19:30 h
Lecture by Raimond Chaves on "Observaciones sobre la ciudad de polvo" (Observations around the city of dust)
Limited seating capacity. RVSP by e-mail at
info@projectesd.com
. Language: Spanish. English translation available.
The atmosphere in Lima is opaque, cloudy and little renewed, due mostly to the city's location. Encircled by the Northern mountain range, the city holds the vapours coming from both the coast and the perspiration of the fertile vegetation that surrounds it, and given the weakness of southern winds, the fog cannot overcome the mountain tops. Thus, sun rays dissipate much more easily the fog in the surrounding areas of Lima and because of this, in turn, winters are more temperate in those places than here...
Hipólito Unanue.
Observations on the climate of Lima and its influence on the organized being, specially man, Lima, 1799-1805.
For their second show at ProjecteSD, Raimond Chaves and Gilda Mantilla present their new work Observaciones sobre la ciudad de polvo. This is a project which approaches Lima, the city where they both currently live in, from its weather conditions as a peculiar poetic-meteorological observatory. Chaves and Mantilla confront Lima's climatic particularity, its long and dreary winter, with a burden of scientific conventions, social stereotypes and other concerned discourses, which through adversity present as natural and unmovable a social and political "status-quo", which is desired to be immutable. Observaciones sobre la ciudad de polvo seeks to evidence the strange and alienated condition of life in cities, highlighting the own circumstances of Lima.
Observaciones sobre la ciudad de polvo signifies a rupture with the earlier artistic projects of Chaves and Mantilla. The artists abandon their most recent modus operandi -the practise of drawing and its broad range of possibilities- and change radically their approach and concern over images, presenting a series of new bi and tridimensional works somewhere between sculpture and installation. Manipulating simple materials –essentially recycled cardboard and wood- with rigour and conceptual straightforwardness, the results use austerity, roughness and hermeticism as signaling forms. As Chaves and Mantilla point out: "Through an speculative game of proof and error we engage ourselves in the construction of objects: instrumental and sampling of the meteorological observatory, with our thoughts set in a space-time frame which, although based on the city where we live in, intends to be basically imaginary, utopian and open".
Observaciones sobre la ciudad de polvo was awarded a Fundación Marcelino Botín fellowship in its 16th edition, and was part of the "Itinerarios 2008-2009" exhibition last January in Santander. Chaves y Mantilla, with exhibitions in Madrid, Barcelona and Lima, have presented their collaborative work in international venues, such as the 27th Sao Paulo Biennial (2006) and the II Trienal Poli/Gráfica de San Juan, Latinoamérica y el Caribe (2009). They have shown their work in the MUSAC (Museo de Arte Contemporáneo de Castilla y León) and the Patio Herreriano (Museo de Arte Contemporáneo Español) in Spain. Their oeuvre is present in private collections in Peru, Puerto Rico, Spain and the USA, and in public collections such as the MOMA (Museum of Modern Art, New York), the MUSAC and the MALI (Museo de Arte de Lima). Observaciones sobre la ciudad de polvo is shown in parallel at the galería Revolver in Lima (until June 19th).