Richard Prince and The Revolution
25 Jun - 10 Sep 2009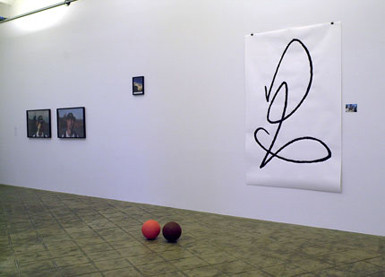 Exhibition view: ProjecteSD, 2009
Left to right: Scott Myles, Isabell Heimerdinger, Kati Simons V. Bockum-Dolffs, Ryan Gander
RICHARD PRINCE AND THE REVOLUTION
An exhibition curated by Jonathan Monk

Artists: Dave Allen, Pierre Bismuth, Anne Collier and Matthew Higgs, Ryan Gander, Daiga Grantina, Isabell Heimerdinger, Tobias Kaspar, Annette Kelm, Scott Myles, Dan Rees, Kati Simons von Bockum-Dolffs

Opening: June 25, 19.30h. Exhibition: 25.06.09 > 10.09.09
Summer gallery hours: Monday to Friday from 11:00 to 19:00h. August closed for summer break.

"Any picture containing multiple images of excessive similarity, or 'sameness' or conditions to that effect, no matter how questionable the posture, is a benevolently powerful picture." Richard Prince "Appropriation is something I have used or worked within my art since starting art school in 1987. At this time (and still now) I realised that being original was almost impossible, so I tried using what was already available as source material for my own work. By doing this I think I also created something original and certainly something very different to what I was re-presenting. I always think that art is about ideas, and surely the idea of an original and a copy of an original are two very different things."–
Jonathan Monk, 2009

It is a great privilege for ProjecteSD to present Richard Prince and the Revolution, the first exhibition curated by Berlin-based British artist Jonathan Monk for a Spanish gallery.
Richard Prince's appropriations and reiterations of images and contents from American and Western everyday culture for his photographs, paintings, objects, drawings and fictional literary pieces have been among the most influential and radical artistic formulations since the late 1970's. He was at the forefront of a generation of artists challenging ideas of authenticity, originality and the value of the unique art object. Appropriation is, undoubtedly, a key strategy in Jonathan Monk's work. It is not coincidental then, that Monk has chosen Richard Prince's legacy as the subject for this curatorial experience. In Richard Prince and the Revolution, Monk revisits Prince's work through a group show with an interesting selection of a younger generation of artists: Dave Allen, Pierre Bismuth, Anne Collier and Matthew Higgs, Ryan Gander, Daiga Grantina, Isabell Heimerdinger, Tobias Kaspar, Annette Kelm, Scott Myles, Dan Rees and Kati Simons von Bockum-Dolffs. The ten artists present in the show use an approach that can be seen as a reactivation of some of the ideas, the motifs or the aesthetic codes found in Richard Prince's oeuvre. The exhibition is about authenticity and originality, about repetition and re-appropiation. A collage from a myriad of works with direct or subtle allusions to Prince's imagery. With elements of seduction and desire, collages, objects taken from popular culture, drawings, books, magazines or photographs, the show suggests a variety of models for the production and interpretation of art, which lead by Jonathan Monk, aims to test the continued strength of the Modernist canon and to demystify the creative process.
The medium of the book has always been a special category within Richard Prince's oeuvre. The artist is an avid collector of rare books and has been a prolific maker of books. This is also a quality shared by Jonathan Monk. Books then are an important part in the show presented now. A library with an interesting selection of Richard Prince's books is presented in the exhibition, as a connecting link to the rest of the works on view. Some of Prince's well known titles such as Second House, Women, Spiritual America or newer books such as Naked Nurses or Jokes and Cartoons, are on view. To accompany these books and the show, Jonathan Monk has created a new artist book published specifically on the occasion of this exhibition and presented for the first time at ProjecteSD. Studio visit (2009) is an artist book by Jonathan Monk, edited by Tobias Kaspar and published in collaboration with JRP Ringier/Christoph Keller editions.
We remain indebted to Jonathan Monk for his great generosity and commitment in the development of this exhibition. Thank you so much to all the participating artists for their great contributions and enthusiasm in this project. Thank you also to their representing galleries: Tanya Bonakdar (New York), Elastic (Mälmo), Johann König (Berlin), The Modern Institute (Glasgow), Jan Mot (Brussels) and T293 (Naples). And finally, thank you to Christoph Keller for his valuable contribution to the show, expertise and collaboration in the publication of Jonathan Monk's Studio Visit.