Willem Oorebeek
25 Sep - 03 Nov 2012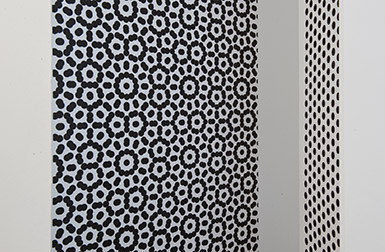 Before and after, 2012 (detail)
Installation view: Willem Oorebeek: The Umbrella Corner (1/7), ProjecteSD
Image credits: Roberto Ruiz
WILLEM OOREBEEK
The Umbrella Corner (1/7)
Curated by Moritz Küng
25 September - 3 November 2012

We are pleased to present The Umbrella Corner, a new exhibition project conceived and curated by Moritz Küng. The Umbrella Corner series will run parallel to our year exhibition program and will extend until June 2013.

'When I was invited to curate an exhibition at ProjecteSD, instead of one single show in the gallery space, I proposed to present a series of small interventions in a particular spot of the entrance hall: a strangely shaped and often overlooked corner, an indentation of a wall that has been so far occupied by a glass stand for umbrellas. The choice for this rather hidden and unpretentious spatial condition - measuring in surface only 60 x 60 cm - served me to pursue a discourse on the genius loci - what the Norwegian architectural theorist Christian Norberg-Schulz defined in the seventies as an 'existential foothold' to orientate or identify oneself in a given environment - as well as to react on the changes within a economical context. The Umbrella Corner appropriates and exploits a minimum of space and establishes a sequence of micro-exhibitions towards a narrative climax.'

The narrative that Moritz Küng is pointing out has its backbone in an important signature artwork of the conceptual art movement: the installation Where's Al? by North American artist Allen Ruppersberg produced in 1972 and today part of the Museum of Modern Art collection in New York. Where's Al? is composed of 160 instamatic photo prints and 110 typed index cards, stating small dialogues, always asking where 'Al' actually is, in an attempt to locate him: on the beach, in a restaurant, in the street, at home. Where's Al? is in itself a kind of short story and is based on clues.... without any actual clue; so to speak, a knock-knock joke, a game of hide-and-seek, as once stated by the art critic Steven Stern. Allen Ruppersberg's work represents an ambiguous mystery story about avoiding, disappearing, hiding, including, excluding and remembering. In certain aspects the work could be understood as reminiscent to Georges Perec's famous novel La Disparition, written in 1969, in which the letter 'e' (the character!) disappeared.

Anchoring his curatorial concept on both - a key work of conceptual art and an extremely tight space, Moritz Küng invited six international artists to react on those specific givens: Willem Oorebeek (NL), Pierre Leguillon (F), Sophie Nys (B), Dora García (E), Joe Scanlan (USA) and Matt Mullican (USA).

Willem Oorebeek is the first artist invited in The Umbrella Corner series. Oorebeek's artistic trajectory is marked by the investigation of the material process of printing and by a critical approach to the meanings and multiple uses of the printed image and text in contemporary society. Using predominantly found and archived printed matter as source material and, most notably, through his remarkable exploration of the material process of lithographic printing, his works are formed from reprints, overprints, and overlaying combinations of thematic order and visual analogues and deal with issues such as reproduction, repetition, authorship and originality. Responding to Where's Al, Willem Oorebeek adapted for The Umbrella Corner one of his wallpaper works, originally conceived in the nineties. Based on a pattern taken from a rubber floor tile, Before or After (2012), shows two different offset-printed versions of a black & white dot grid. Their different appearance opposite in the corner evoke two 'shadows' and - in the absence of the person in question - different ways of perception and remembrance.