You'll Never Walk Alone!
14 Nov - 05 Dec 2009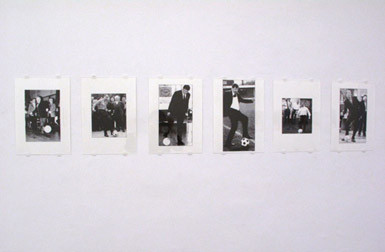 © Peter Piller
Untitled (Archiv Peter Piller), 2009
Set of 6 pigment prints on paper, 29,7 x 21 cm each
YOU'LL NEVER WALK ALONE!
With works by Jakob Kolding, Hans-Peter Feldmann and Peter Piller
Jakob Kolding and Christoph Keller in conversation. 14th November at 18h.
Opening: 14th November from 12h to 20h. Exhibition: 14.11 > 05.12.09.
Tuesday to Saturday, 11:00 to 19:00h
"The thing is, and everyone who follows football understands this, that most of the time you live in pain. Most seasons end in disaster. You probably lose half the games. You travel far to follow the games away, for every game you use 3-4 hours more. Perhaps you get cold, get wet feet, and when you get home your better half says: You've been out. You've had fun. And you have had a terrible afternoon." (Ken Loach)
On November 14th Danish artist, Jakob Kolding (FC Liverpool, Defender) and German editor, Christoph Keller (VfB Stuttgart, Right Winger), both serious football fans, will talk about football. And of tragedy, pain, wasted years. And about passion, love, excitement. With more than 60 years spent following football (the two together), they know what to say. Lifelong supportership, you have no choice. Or as artist Jonathan Monk puts it: "One is born into it and perhaps we were born in the wrong place, but it would be impossible for me and you to really support any other team. We keep on dreaming." They will have their usual conversation: crazy money, crazy managers, European leagues, heart and soul, bad decisions and a little bit on contemporary art. And they will try to get out of Barcelona one single time without getting beaten up!
You'll never walk alone!, a show tune from the 1945 musical, Carousel, became in the 1960s the anthem of Liverpool Football Club and since then has been invariably sung by its supporters moments before the start of each home game. This tradition later spread to several other clubs around the world and You'll never walk alone! is performed by a massed chorus of supporters on matchday. This song has been chosen by Christoph Keller to entitle this exhibition, which brings together works by three renowned contemporary artists: Jakob Kolding, Hans-Peter Feldmann and Peter Piller. For this special event, we will present four new collages by Jakob Kolding, a new series of photographs by Peter Piller, and the series Fussballers by Hans-Peter Feldmann.
This is the first time ProjecteSD shows Jakob Kolding's work. His collages, drawings and posters reflect a wide range of references and techniques that can be inscribed within the act of cut & paste reproduction. This technique of mixing opens up the possibility of engaging with diverse specific subjects such as architecture, visual arts, subculture, popular culture and social theory. Some early works by Kolding lead us to understand this dynamism as resembling Russian Suprematism, in particular the influence of El Lissitzky's approach to innovative typographies and photomontage. However, the artist's construction of a personal vocabulary based upon a play on repetition - where visual and textual elements of one montage are further repeated in continuous variations - has given an additional edge to this technique of appropriation. This has to do with a reminiscence of hip-hop culture and its constant present reconfiguration by younger generations.
Christoph Keller (*1969, Stuttgart) founded and was former director of the well-known Frankfurt-based art publishing house "REVOLVER – Archiv für aktuelle Kunst". He has been a professor for artistic publishing and typography at Hamburg art academy and a regular lecturer at many international art schools. He has curated a number of exhibitions and organized a globally travelling archive on independent art publishing called "Kiosk". Keller has edited and designed some hundreds of artists' books and published numerous texts on the subject in various international media. He is an advisory board member for publishing ventures in Canada, New Zealand, Germany and Switzerland. Keller withdrew from REVOLVER in 2005 and moved with his family to an old farm near Lake Constance in southern Germany, where he now raises rare-breed livestock, distills award-winning eau-de-vie (
http://www.staehlemuehle.de
), and works as a freelance designer and editor with a new series of artist' books published by JRP/Ringier, entitled "Christoph Keller Editions".
Jakob Kolding (*1971, Albertslund, Denmark), has been exhibiting internationally over the past twelve years. He has had solo shows in London, Geneva, Rome, Berlin, Vienna, Amsterdam, Helsinki, Stockholm and his native Copenhagen. His work has been included in shows at such prestigious venues as the DeAppel Foundation; the South London Gallery; The Rooseum; The Kölnischer Kunstverein; the Palais de Tokyo, among many others. He had a solo exhibition at the Kunstverein in Hamburg, mounted an ambitious solo project at the Frankfurter Kunstverein, and participated in Utopia Station in the 2003 Venice Biennale. In Spain his work has been presented at the D.A.E. in San Sebastián, the Centre d'Art Santa Mònica in Barcelona, Sala Rekalde in Bilbao and most recently at the gallery Salvador Díaz in Madrid.
Hans-Peter Feldmann (*1941, Germany) lives and works in Düsseldorf. His work appeared in Documenta 5 and Documenta 6 (1972, 1976). More recent shows include Guggenheim Museum Soho, NY (1993), Museum Ludwig, Cologne, Germany (2003); do it, curated by Hans Ulrich Obrist in Ritter Klagenfurt, Austria (1994); Utopia Station, curated by Molly Nesbit, Hans Ulrich Obrist and Rikrit Tiravanija at the 2003 Venice Biennale; and The Last Picture Show: Artists Using Photography, 1960-1982 at the Walker Art Center in Minneapolis, Minnesota and at the Marco de Vigo (2003), Contemporary Art gallery, Vancouver (2006), Hamburger Banhof, Berlin (2006), Kunsthalle Wien (2007), Sculptur Project 2007, Munster, and solo shows at the Sprengel Museum in Hannover, Arnolfini gallery, Bristol and Landesgalerie, Linz, Austria (2007-08). His first solo show in Spain was at The Tàpies Foundation (2001-2002). More recently his series 100 Jahre was shown in The Gift of Life at the Centre d ́Art La Panera in Lleida (2008). He has also participated in La sombra de la historia at the CGAC in Santiago de Compostela (2008) and in Universal Archive. The Condition of the Document and the Modern Photographic Utopia at MACBA, Barcelona (2008-2009). His work has been shown at the latest Venice Biennale (2009).
Peter Piller (*1968, Fritzlar, Germany) studied German language and was trained as visual artist. He was awarded the Ars Viva Prize and received the Rubens Prize from the City of Siegen in 2004. His work has been shown in the Museum of Contemporary Art Siegen (2004), the Witte de With Rotterdam (2005), the Ludwig Museum in Cologne (2005), Kunsthaus Glarus, Switzerland (2007). More recent shows include Decollecting I, FRAC Nord-Pas de Calais, France (2008), The order of Things at Muhka, Antwerp, Belgium (2008); Swiss Landscapes at ProjecteSD, Barcelona (2008); Peripheriewanderung Bonn at Kunstmuseum Bonn (2009); To Be Determined at Andrew Krepps Gallery, NY, USA (2009); Then the work takes place. On the Paradigm of the Conceptual in Contemporary Photography at Kunsthaus Graz, Austria (2009) and Pequeña historia de la fotografía at CGAC, Santiago de Compostela, Spain (2009). His work is part of important public and private collections.
This event is part of the initiative of the GIC galleries Off site! within the Tardor de l ́Art events supported by the ICIC.