Between Spaces
25 Oct 2009 - 21 Apr 2010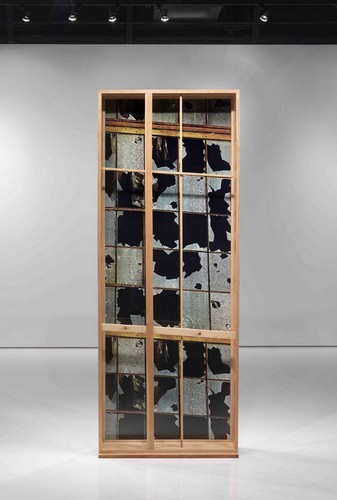 © Marc Swanson
Untitled (Window Box), 2008-2009
Wood, glass, paper, shellac
81 1/2 x 32 x 11 inches
Courtesy the artist and Richard Gray Gallery, NY
P.S.1 Contemporary Art Center is proud to present Between Spaces, a group exhibition organized by P.S.1's junior curatorial staff. The exhibition brings together eleven emerging and established artists who remove familiar objects from their traditional functions, creating work that suggests new contexts and possibilities. On view in the First Floor Main Gallery from October 25, 2009, through April 5, 2010.

Adopting the role of alchemist, the artists in Between Spaces reform and shift the aesthetic and cultural connotations of their materials. Notions of presence and absence are highlighted, evoking the space in between.

In recasting the functionality of standard materials, including light, the works in Between Spaces challenge the viewer's perception of domestic material conventions. In his series Blinds, Martin Soto Climent explores the physical limits of Venetian blinds as he twists and transforms them into a draped installation that cascades from the wall. Artist Alex Da Corte uses homemade multicolored soda as the sole medium in his large site-specific floor installation. The soda is poured into molds and then hardens into an abstract composition of juxtaposed primary shapes.

Artists: David Altmejd, Alex Da Corte, Robert de Saint Phalle, Cheryl Donegan, Zak Kitnick, Sam Moyer, Heather Rowe, Melanie Schiff, Martin Soto Climent, Marc Swanson, and Penelope Umbrico

Organized by Tim Goossens and Kate McNamara, P.S.1 Curatorial Assistants.

The exhibition is supported by The Student Body of P.S.1 Contemporary Art Center.