Bob and Roberta Smith
Art Amnesty
26 Oct 2014 - 16 Mar 2015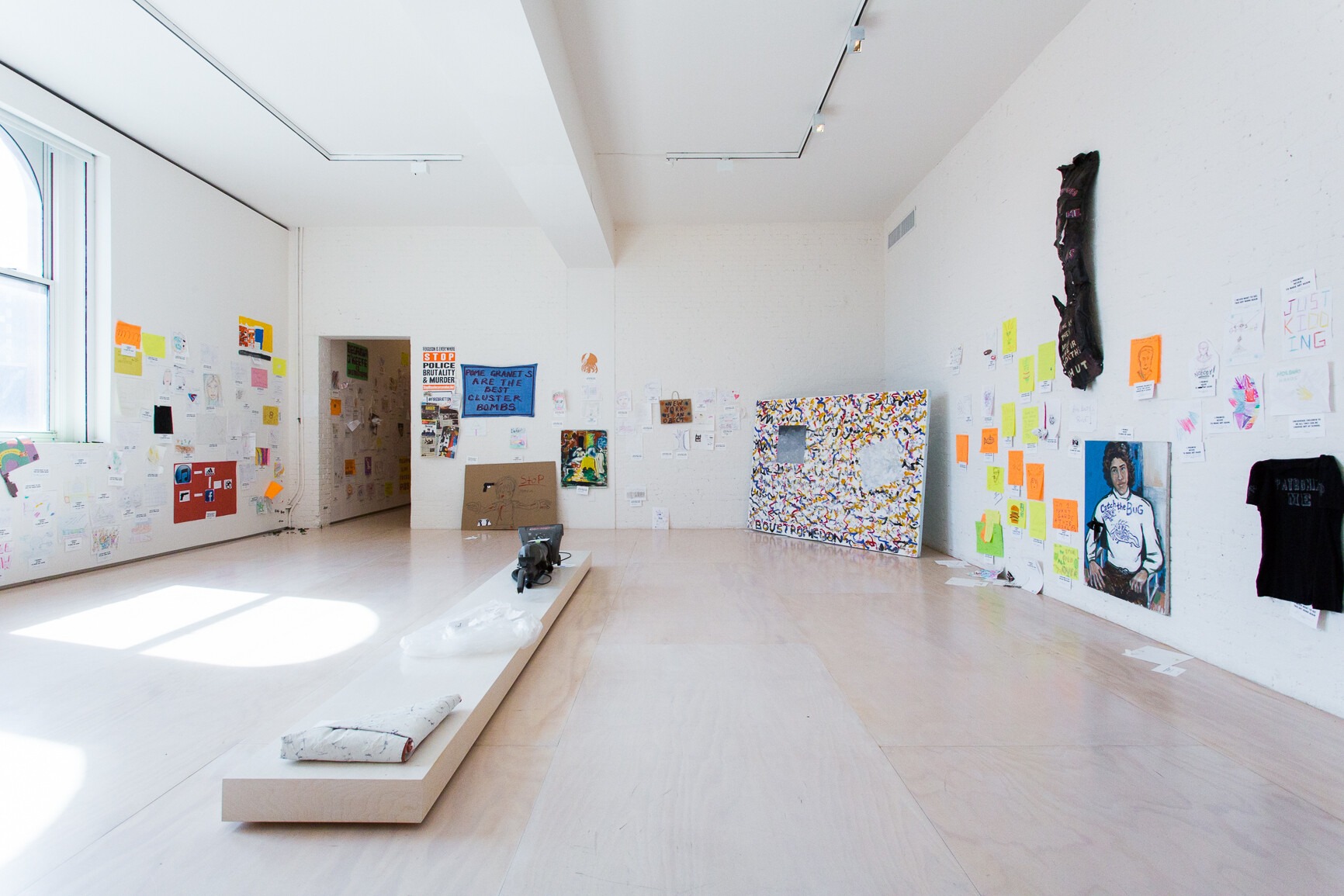 Installation view of the exhibition "Bob and Roberta Smith: Art Amnesty"
October 26th, 2014–March 16th, 2015. INPS1.1099.14. Photograph by Pablo Enriquez.
Bob and Roberta Smith are issuing a call to Artists. Pack it in. Bob and Roberta Smith are delighted to offer an Amnesty for your Bad Art. Turn in your brushes and video cameras. Hand in your chisels and marble.

Bob and Roberta Smith are offering an opportunity for artists to dispose of their artwork at MoMA PS1, and to retire from making art. Beginning October 2, artists are invited to deposit their art in dumpsters located in the museum's courtyard, which will be emptied as needed throughout the period of the Art Amnesty. Those who wish to exhibit their work one final time before it is destroyed may bring their art to the 2nd Floor Main Galleries, where museum staff will install it for public view. The museum will accept work under the Art Amnesty during regular hours, subject to certain restrictions outlined in the submission guidelines. The exhibition reprises and expands upon their Art Amnesty originally presented at Pierogi Gallery in 2002.

As part of the Art Amnesty, the Smiths will also make available a pledge form at the museum that can be signed by any artist or member of the public: I PROMISE NEVER TO MAKE ART AGAIN. Those who commit themselves will receive an official I AM NO LONGER AN ARTIST badge designed by Bob and Roberta Smith, and shall be invited to create one final drawing for inclusion in the Art Amnesty gallery exhibition, using materials provided onsite. Those wishing simply to discard a work will be asked to sign a pledge that reads I NEVER WANT TO SEE THIS WORK OF ART AGAIN.

While the Art Amnesty provides an occasion for artists to clear out their studios, it also serves other needs. Those who have been the victims of gifts of art, for example, are invited to dispose of these unwanted aesthetic presents at the museum. And as the Smiths note, "Many successful artists have recently voiced embarrassment that their work commands high prices. Artists may also use the opportunity of the Art Amnesty to expel certain works of art from the art market and demote them to objects unburdened by grand expectations and dashed dreams." The Smiths will be the first to contribute to the Art Amnesty, discarding a batch of work previously exhibited in New York.

At the conclusion of the Art Amnesty, the museum will securely dispose of all art works contributed to the exhibition and dumpsters.

At the opening of the exhibition on October 26, Bob and Roberta Smith will also organize an Art Party at MoMA PS1, at which children will be encouraged to make art with their families using art materials available at the event. Beginning at the Art Party and throughout the run of the Art Amnesty, a third pledge form will be available for signing, which states I WILL ENCOURAGE CHILDREN TO BE ALL THAT THEY CAN BE. CHOOSE ART AT SCHOOL. These pledges will be collected, along with "first drawings" children make and wish to contribute, and mailed to local politicians to encourage arts funding and arts education.

"The personal journey for most artists starts with enthusiasm and joy, and ends, if the artist does not have huge success, in embarrassed children taking their dead parents' work to the dump," the Smiths explain. "Taken together, the Art Amnesty and Art Party explore the full arc of the life of an artist."

The Art Party was initiated in Brooklyn in 2011 "to provide a creative yet critical discourse of hope in response to the Tea Party's discourse of austerity and despair." As the Smiths stated at its inception: "The Art Party stands for stimulus and sensible long-term measures to rebuild American confidence. The Art Party says singers make America sing and dancers make America dance. The Art Party celebrates that innovation comes from sheets of blank paper and pencils. The Art Party has a broadly liberal and humanistic agenda on other issues. Where the Tea Party is hawkish the Art Party is peaceful. The Art Party is opposed to the death penalty and supports women's rights. The Art Party is not a formal political party but rather a pressure group and natural home for progressive liberal people to unite on issues of agreement." The Smiths have subsequently organized Art Party events throughout the United Kingdom to protest the British government's proposed eradication of art from the British school syllabus.

A film that depicts the story of the Art Party, directed by the Smiths with Tim Newton, will also be screened at the opening. A feature documentary about the work of Bob and Roberta Smith, Make Your Own Damn Art: the World of Bob and Roberta Smith (2012), directed by John Rogers, will be shown throughout the run of the Amnesty.

Drawing equally from conceptual performance history and nonsense literature, as well as tenets of British empiricism and the rhetoric of political campaigns, Bob and Roberta Smith's allergy to pretension and preciosity can lend an offending bluntness or seeming nihilistic absurdity to their actions. The Smiths ask:

Why are some people artists while others are not? Was Joseph Beuys an idiot when he said everyone is an artist? Do artists think they are a cut above the rest of us? Are the arts a good in themselves, or is it much, much, more complicated than that?

Many artists delude themselves into believing that they are promising, productive artists when they would live much more fulfilled and useful lives engaged in proper employment. I PROMISE NEVER TO MAKE ART AGAIN provides a baptism of necessary real life and allows artists to "Get Real." Ditch a life of poverty and precarious self-employment! Don't miss a life-changing opportunity.

The Art Amnesty is organized by Peter Eleey, Curator and Associate Director of Exhibitions and Programs, MoMA PS1, with Jocelyn Miller, Curatorial Assistant.

The exhibition is made possible by the MoMA PS1 Annual Exhibition Fund.