Devin Kenny
rootkits rootwork
09 Jun - 02 Sep 2019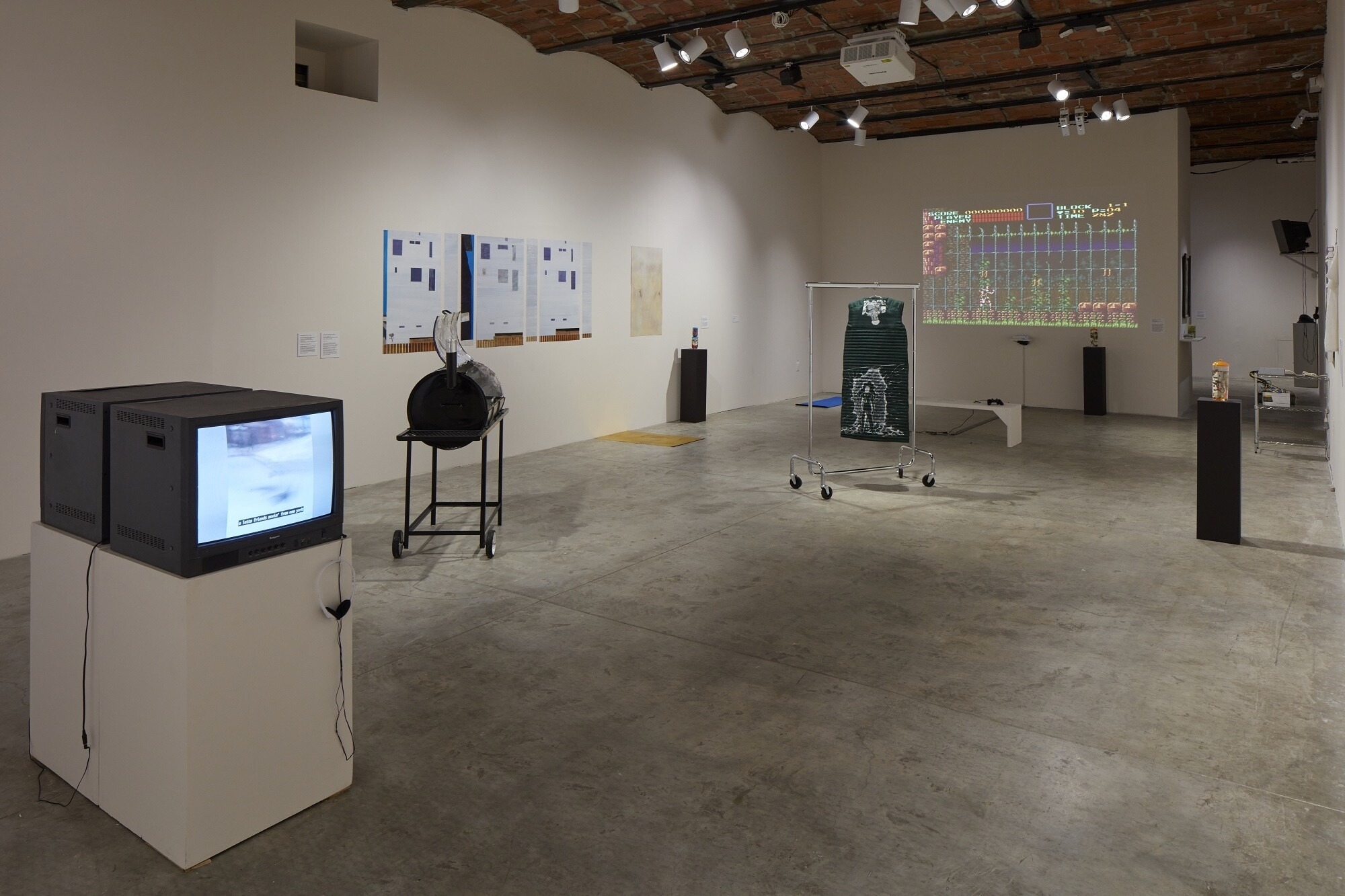 Installation view of Devin Kenny: rootkits rootwork, on view at MoMA PS1, New York from June 9–September 2, 2019.
Devin Kenny raises timely questions about the shape of racial politics and community in contemporary America, interrogating the interconnected dynamics of gentrification, displacement, and diaspora. For his first museum solo exhibition, Kenny encourages us to consider how the technologies that facilitate online communities and activism develop alongside the displacement and systemic oppression and marginalization of Black people in the US.

Much as his work does, Kenny's exhibition title links together networks of disparate references. "Rootkits" are a form of computer virus that undetectably alter the underlying operating system; "rootwork" alludes to practices of Black-American folk magic, and both reference the DNA kits that allow people to explore their heritage. In more than a dozen works across a range of media—including some created for the exhibition—Kenny draws particular inspiration from network technologies, locating unsettling intersections of complicity and exploitation, which his work often resists. Employing the popular cultures of memes, music, fast fashion, and viral media, the artist subtly reveals ubiquitous and often invisible structures of injustice and exclusion.

This exhibition is a part of Summer at MoMA PS1.
Devin Kenny (American, b. 1987) is an interdisciplinary artist, writer, musician, and independent curator. He has collaborated with various art and music venues in New York, Chicago, Los Angeles, and elsewhere, including Recess; Het Roode Bioscoop; REDCAT; Freak City; Julia Stoschek Collection; the Core Program at the Museum of Fine Arts, Houston; SOMA Summer, Mexico City; Goethe-Institut New York, and MoMA PS1, where he participated in Greater New York (2015). A graduate of Cooper Union, Kenny received his MFA in 2013 from the New Genres department at UCLA and is an alumnus of the Whitney Independent Study Program.

Devin Kenny: rootkits rootwork is organized by Peter Eleey, Chief Curator with Oliver Shultz, Curatorial Associate.

The exhibition is supported by The Tom Slaughter Exhibition Fund. Additional funding is provided by the MoMA PS1 Annual Exhibition Fund.