Ed Atkins
20 Jan - 14 Apr 2013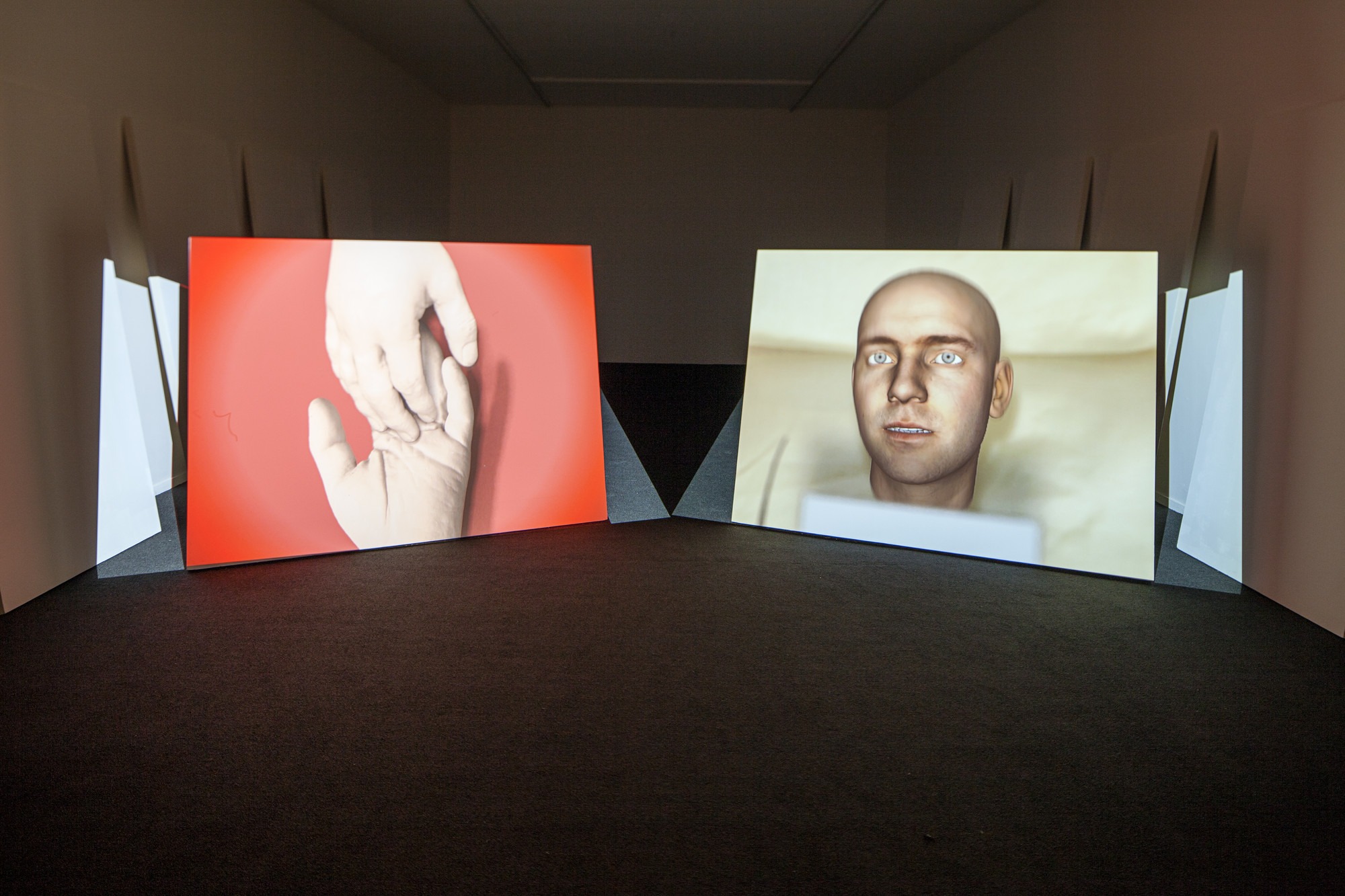 Installation view of the exhibition "Ed Atkins"
January 20th, 2013–April 14th, 2013. INPS1.1082.8. Photograph by Matthew Septimus.
Known for his high-definition videos that defy narrative conventions, Ed Atkins (British, b. 1982) works with filmic and text-based forms in technological transition. The artist considers HD technology deathlike because of how it intensifies the visibility of the filmed subject, creating an image that prioritizes its own representation over the language, character, and emotions of the figures it depicts. Often creating installations that include collage, drawing, and other mediums, the artist deploys this bodiless movie format to highlight the conflicting intimacies that today's mechanisms of cultural production represent and allow us to achieve.

Employing spoken and subtitled dialog that evokes the romance and horror of Gothic literature, Atkins inflects his melodramas with an array of post-production effects designed to imitate the analog qualities of traditional cameras and lighting equipment. He uses various motion-capturing devices to combine video footage with computer-generated 3D models and digital textures, playing visual conventions against those of sound composition and editing. Sudden transitions mark his work, drawing our attention to the artifice of contemporary "film" in its accelerating transition to new digital formats capable of remarkable kinds of simulation.

The exhibition—Atkins's first solo show in the United States—features the two-channel video and surround-sound installation Us Dead Talk Love (2012), which focuses on a dialogue between two cadavers who reflect upon representation, immanence, and narcissism. The artist describes the work as "a tragedy of love, intimacy, incoherence and eyelashes." Combining spiritual immateriality with physical presence, the figure of the cadaver parodies the digital filmic medium and its remove from traditional celluloid.

Also on view is the single-channel video Warm, Warm, Warm Spring Mouths (2013). Made using a number of technologies, including a Microsoft Kinekt motion-capturing device and Faceshift animation software, the work depicts an unidentified protagonist who appears to be residing at the bottom of the ocean. The character recites "The Morning Roundup," a poem by the American writer Gilbert Sorrentino (1929-2006), whose shifting perspectives and tenses underscore the video's attempt to describe things that are inherently indescribable.

Atkins writes prolifically, often making his texts available within the space of the exhibition while also publishing them online. MoMA PS1 has published the scripts for both works in a single volume, which are available for free in the galleries.