GNY: Rotating Gallery 4
11 Sep - 25 Oct 2010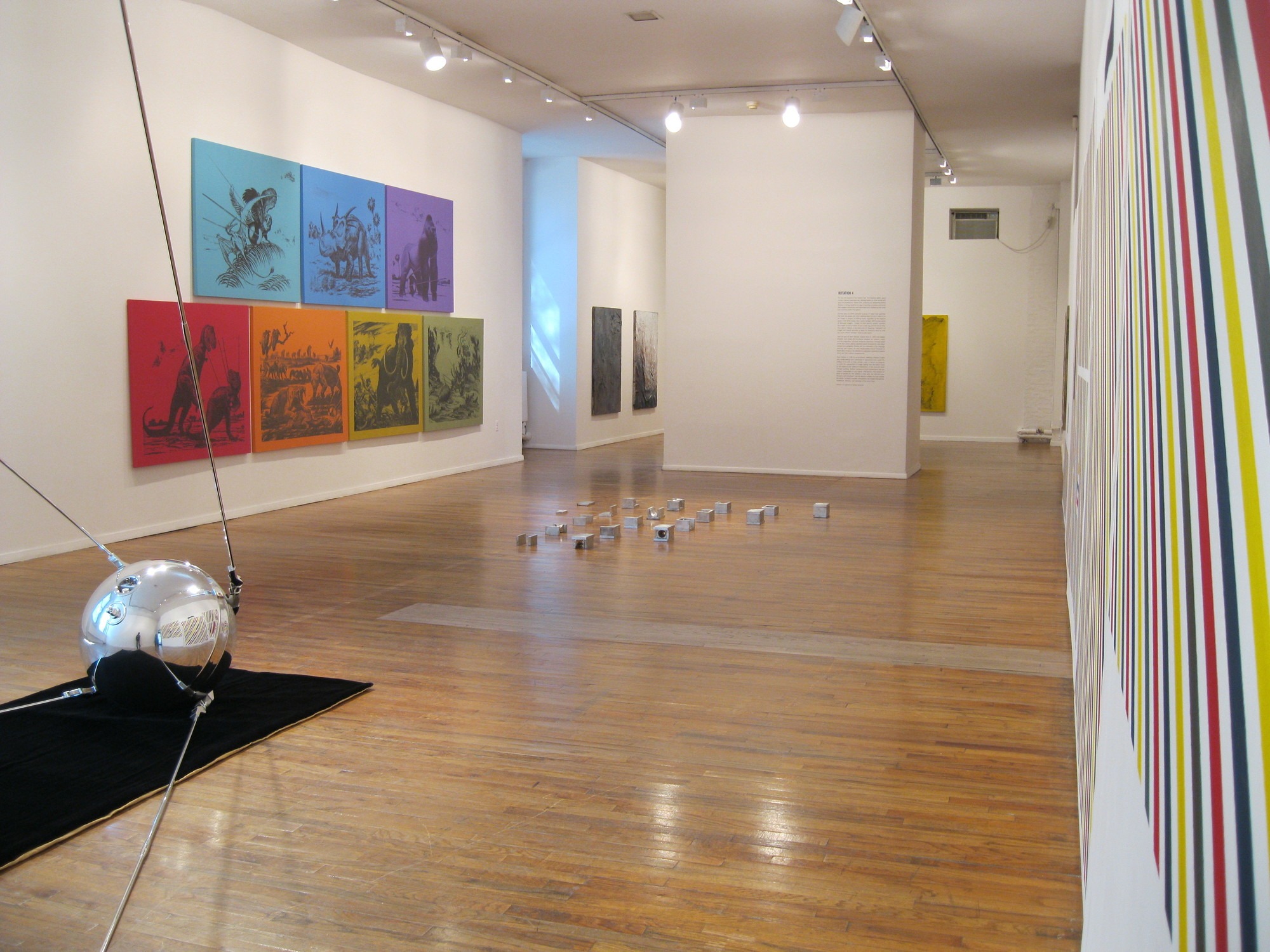 Installation view of GNY: Rotating Gallery 4 at MoMA PS1, September 11–October 18, 2010. Photo: Anna Dabney Smith
First Floor Drawing Gallery

For the final iteration of Greater New York's Rotating Gallery, guest curator Clarissa Dalrymple has selected works by three artists who span two generations. Rather than proposing an overarching theme, Rotation 4 brings together a range of painting, sculpture, and prints that suggest connections and disconnections initiated by their physical proximity within the gallery.

Andrew Gbur (b.1984) presents a group of large-scale paintings that form one whole unit. After painting what the artist refers to as an "image of stripes" in shifting blocks separated by the negative space of the white canvas, Gbur inserts isolated CMYK screen-prints of obscured imagery. Chosen for their specific graphic qualities, the images include a chunk of coal, a pant leg, and the hair of Yoko Ono. Gbur's interest in the haecceity (or individual "thisness") of images and objects prompts a desire for extending what he sees as a slow collision between meaning and optics.

Over the past 25 years Michael Joaquin Grey (b. 1961) has created artworks that bridge the boundaries between art, science, media, and the imagination. His work frequently examines a primary phase of life and culture, asking questions about humankind's early development and pedagogy. Playing with the rudiments of life, language, learning, and culture, his work recapitulates critical moments in these areas of study in an attempt to understand humanity's creative limits and their cultural consequences.

Ryan Sullivan (b. 1983) is an alchemist, inventing mixtures of paint and implementing strict processes of application that cause the surface of his work to move, wrinkle, crack, or deform. In doing so, he shifts the responsibility of image-making from the artist's hand to the physical and chemical interactions of the material itself. Through painting, Sullivan references found abstractions that are created independent of any human interference—the network of veins in marble tile, the patterns in tree bark, the distorted view through a wet windshield. Like the abstract imagery he finds outside the studio, Sullivan's complex compositions are created through the movement, pressure, and workings of the world itself.

Rotation 4 is organized by Clarissa Dalrymple.
Schedule of MoMA PS1's Rotating Gallery Series
Rotation 1 - Olivia Shao: May 7 - June 13, 2010
Rotation 2 - Kate Fowle: June 19th -July 25, 2010
Rotation 3 - Cecilia Alemani: July 31 -Sept. 5, 2010
Rotation 4 - Clarissa Dalrymple: Sept. 11 - Oct. 17, 2010

The exhibition is made possible by The Andy Warhol Foundation for the Visual Arts, The Horace W. Goldsmith Foundation, MoMA's Wallis Annenberg Fund for Innovation in Contemporary Art through the Annenberg Foundation, the Julia Stoschek Foundation, Jerry I. Speyer and Katherine G. Farley, the Jacques and Natasha Gelman Trust, and the MoMA PS1 Board of Directors.
Generous support is provided by Agnes Gund, Marie-Josée and Henry Kravis, Maja Oeri and Hans Bodenmann, Adam Kimmel, The Friends of Education of The Museum of Modern Art, Sydie Lansing, Lily Auchincloss Foundation, Inc., Dorothy Lichtenstein, and by The Contemporary Arts Council and The Junior Associates of The Museum of Modern Art.
Additional funding is provided by Franny Heller Zorn and Richard L. Zorn and by The Student Body of MoMA PS1.
The accompanying publication is made possible by The International Council of The Museum of Modern Art.