Jeff Elrod
Nobody Sees Like Us
20 Jan - 01 Apr 2013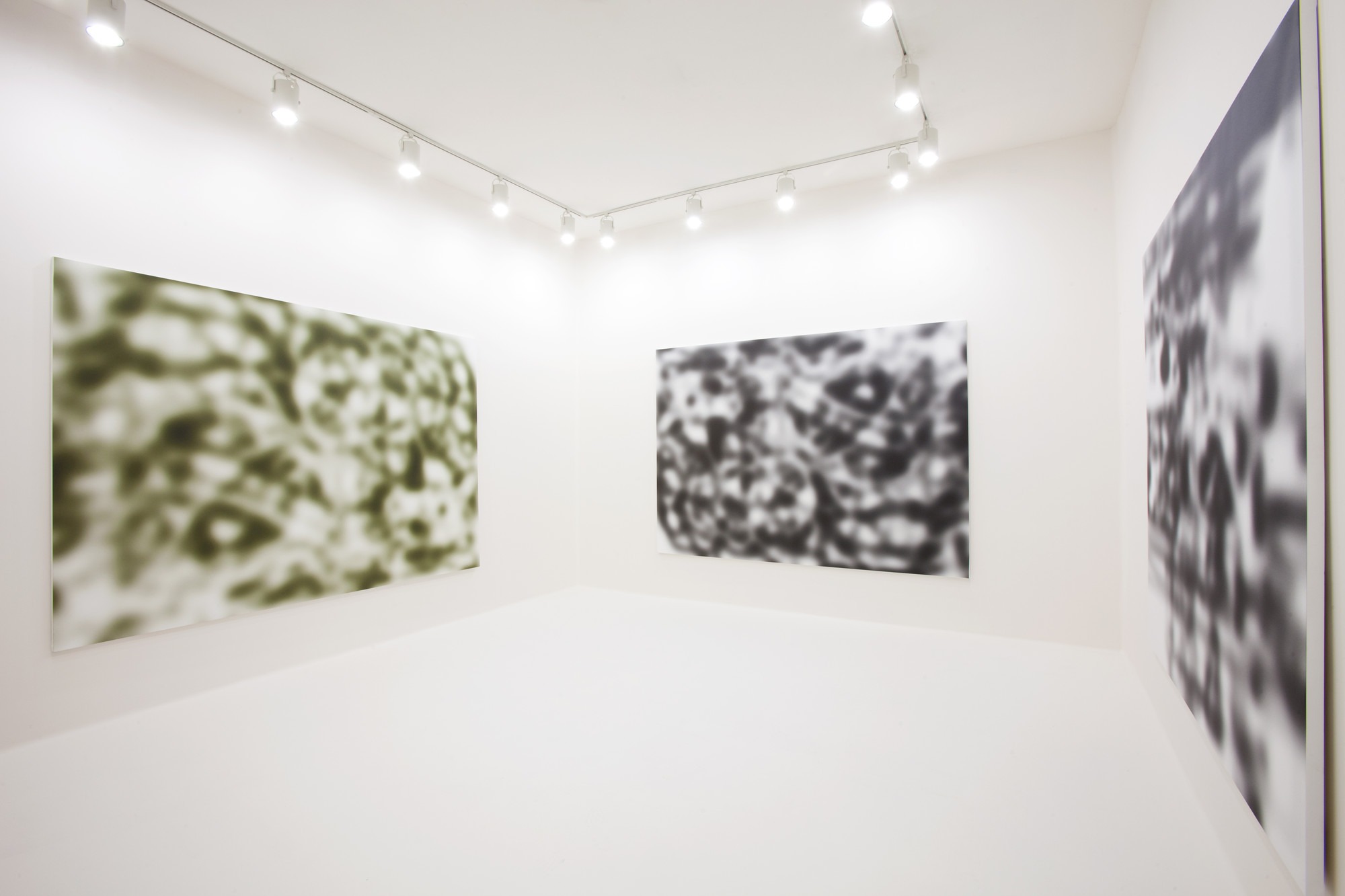 Installation view of Jeff Elrod: Nobody Sees Like Us at MoMA PS1, January 20–April 1, 2013. Photo: Matthew Septimus
JEFF ELROD
20 January — 1 April 2013

Jeff Elrod (American, b. 1966) creates abstract paintings using basic computer software as a starting point for his artistic process. He began painting abstractions of video game imagery in the early 1990s before using computers, starting in 1997, to facilitate paintings through a technique he calls "frictionless drawing." While software allows for the production of lines and color fields without direct intervention of the artist's hand, Elrod aligns his work with the long history of painting and abstraction.

Without preconceived plans for his canvas, Elrod employs the computer to work, save, and re-work hundreds of drawings, and the paintings in this exhibition are made from the artist's previous works. For this show, Elrod abandoned his process of transferring the digital image to canvas by hand, and used printers to produce the final work. These new paintings are based on the artist's series of hundreds of computer-generated drawings created in homage to the exchange between artist and poet Brion Gysin (1916–1986) and writer William S. Burroughs (1914–1997) surrounding Gysin's "dream machine," a device built by Ian Somerville in the late 1950s that uses oscillating light frequencies to stimulate the optical nerves while the viewer's eyes are closed. Evoking the hallucinatory effects intended by Gysin's machine, Elrod processes his original drawing into blurred images to create visual fields that resist coherence. The space, shapes, and lines from the artist's original drawings are lost and the indeterminate blur that he produces becomes the paintings' dominant aesthetic form.

Jeff Elrod: Nobody Sees Like Us is organized by Klaus Biesenbach, Director, MoMA PS1, and Chief Curator at Large, The Museum of Modern Art with Eliza Ryan, Assistant Curator, MoMA PS1.