Jeremy Shaw
Best Minds
10 Sep - 10 Oct 2011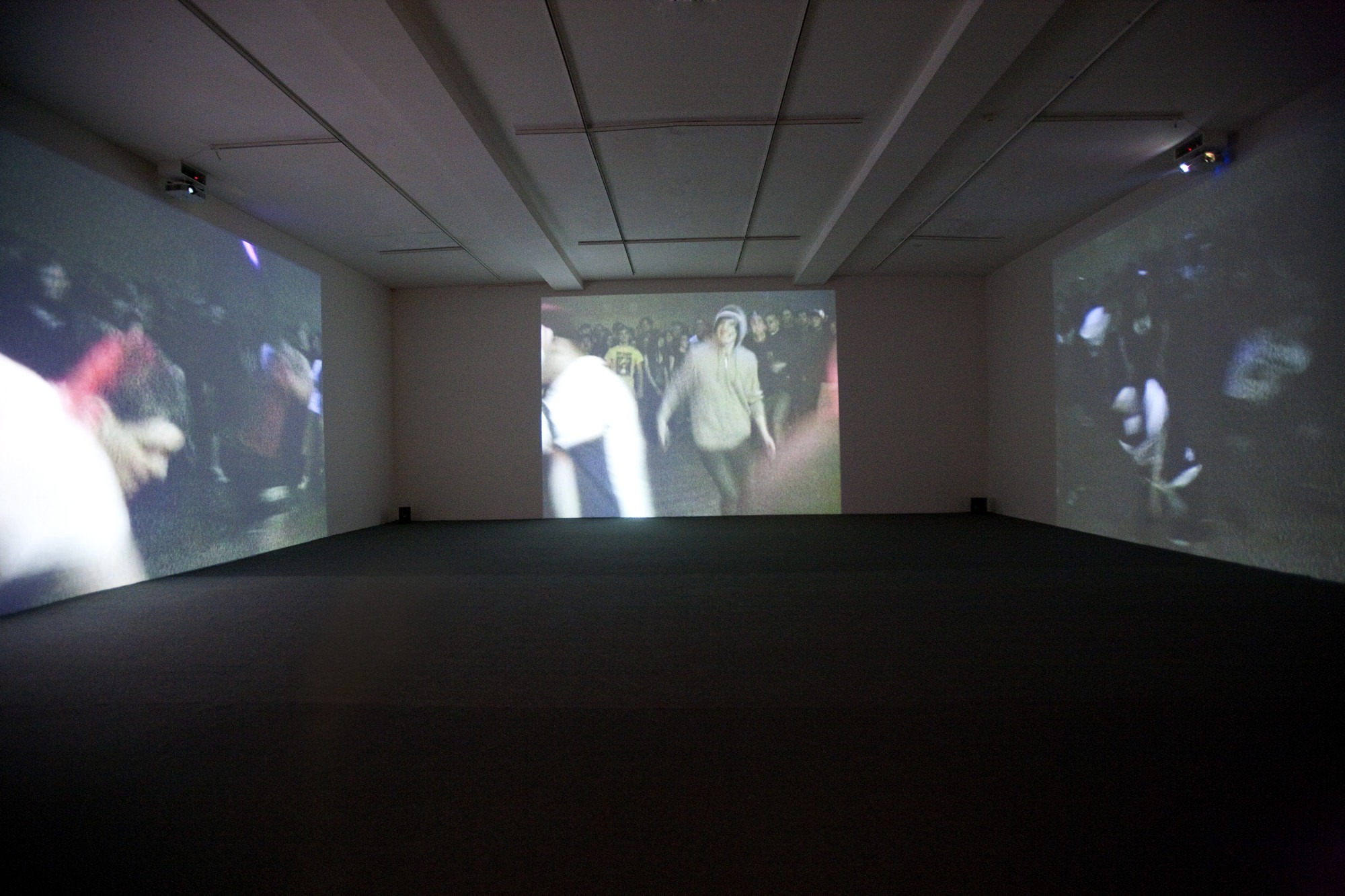 Installation view of the exhibition "Jeremy Shaw: Best Minds"
September 10, 2011–October 10, 2011. INPS1.1049.1. Photograph by Matthew Septimus.
Jeremy Shaw's (Canadian, b. 1977) work explores altered states and the
cultural and scientific practices that aspire to, or attempt to map, transcendental experience. Adopting strategies from the realms of conceptual art, documentary film, music video, and scientific research, Shaw's work has addressed topics ranging from psychedelic drug use and brain imaging, to teenage violence and time travel.

Presented at MoMA PS1 in a new, expanded configuration, Best Minds Part One (Expanded)'s three-channel video installation features slowed-down footage of the crowd at a straight edge hardcore concert in Vancouver, Canada. A subset of hardcore punk, with origins in the early 1980s, the DIY straight edge movement levels a critique against traditional hardcore, and is defined by a puritanical rejection of the nihilistic tendencies commonly associated with punk, namely alcohol consumption, substance abuse, and sexual promiscuity.

Drawing upon his background as both visual artist and musician, Shaw replaces the video's sound with an original score that quotes The Disintegration Loops (2002) of avant-garde composer William Basinski, a series of sound recordings of deteriorating tape reels that document the devolution of analog technology. An emphasis on disintegration is also present in the low resolution of the footage, which was recorded using a handheld digital camcorder under low lighting conditions. The artwork's visual and aural decay, coupled with the simultaneous hysteria and literal sobriety of Shaw's abstinent subjects, hints at Best Minds' titular reference to the opening of Allen Ginsberg's seminal poem Howl (1955), itself a highly charged lament and counter-cultural touchstone. The title also refers to a predominant straight edge belief that a self-imposed, 'clean' lifestyle is inherently a better one.

The melancholy tempo and tone of Shaw's ambient composition, combined with the slow motion footage, transpose violent displays of macho ecstasy into meditative, balletic passages. This exaggerated mode of presentation magnifies each of the slam dancers' ecstatic moments, allowing viewers to closely identify and examine the observable features of euphoric catharsis. While the work takes as its subject the uniquely sober state of straight edge punks, the three channels surround and immerse the viewer, who as a result becomes not only an observer but also a mesmerized participant.

Jeremy Shaw: Best Minds is organized by Klaus Biesenbach, Director of MoMA PS1 and Chief Curator at Large of The Museum of Modern Art.