Jonas Mekas
The Beauty of Friends Being Together Quartet
11 Feb - 23 Apr 2007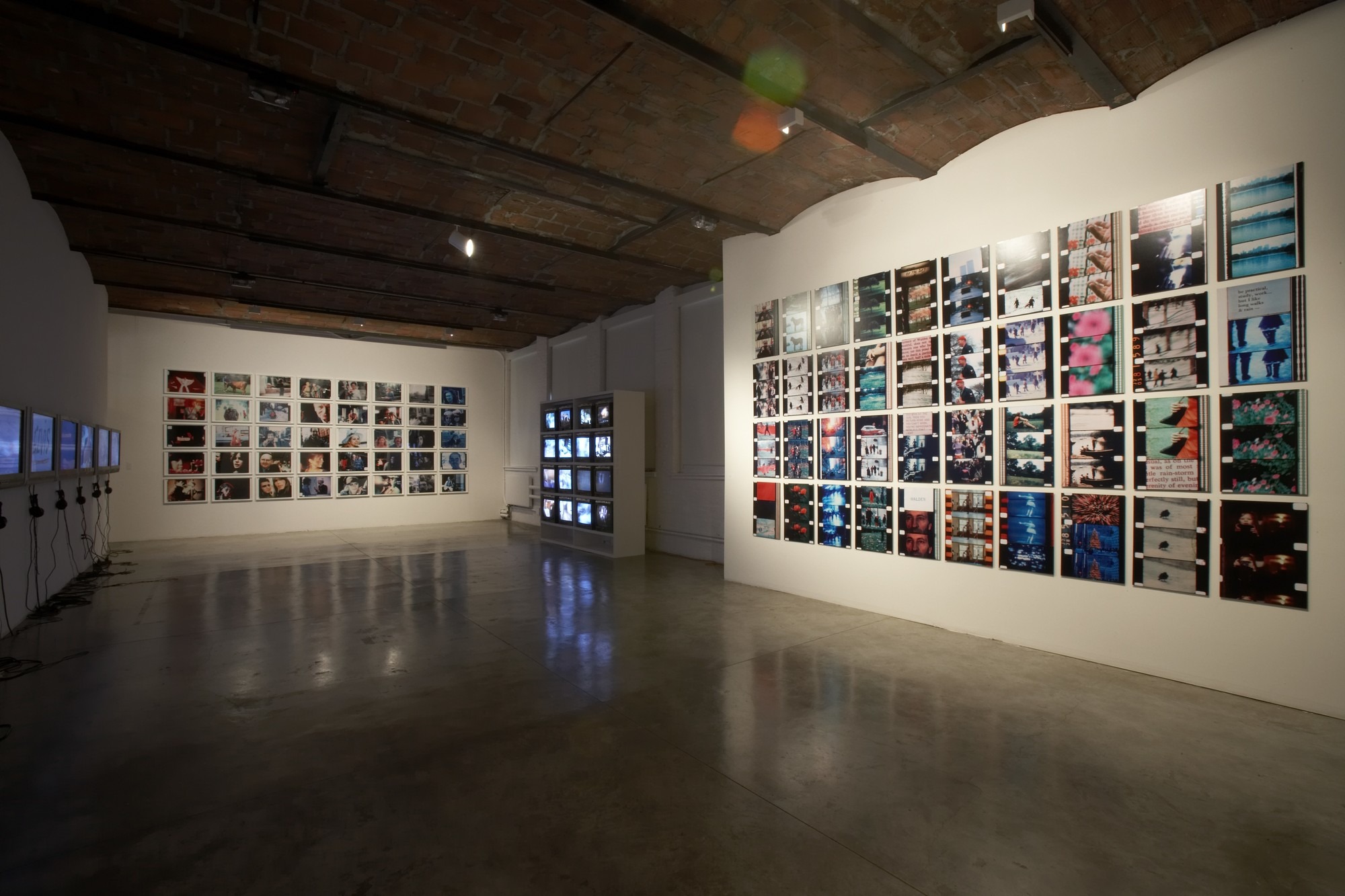 Installation view of the P.S. 1 exhibition "Jonas Mekas: The Beauty of Friends Being Together Quartet"
February 11–April 23, 2007. INPS1.955.5
P.S.1 Contemporary Art Center is pleased to announce Jonas Mekas: The Beauty of Friends Being Together Quartet, an exhibition comprised of films and film stills by the celebrated artist. Mekas is considered an inventor of Diarist Cinema—an intimate first-person collision of poetry, fiction, documentary, and formal experimentation through which any autobiographical themes can be explored and is also renowned for his extensive film archive. Such seminal and varied components of his oeuvre will be intimately presented in the Mini-Kunsthalle from February 11 through April 23, 2007.
Drawing on thousands of hours of film footage, from spontaneous events and happenings of everyday life to the most intimate sequences of his personal relationships with friends from various times and places in New York City and beyond, this exhibition features for the first time the multi-channel installation Four Quartets: The Destruction Quartet; The Education of Sebastian, or Egypt Regained; Farewell to SoHo; and Martin Scorsese: An American Filmmaker at Work. Also on view will be The Sixties Quartet including Scenes from the Life of Andy Warhol, Scenes from the Life of George Maciunas, To John and Yoko with Love, and This Side of Paradise.
In addition to the film presentation, the exhibition also includes 40 portraits of friends selected from individual film frames, 40 stills from footage of New York City, and his recent 40 films made as an introduction for the podcast project 365 Films—one sequence shot each day of the year (also available on
www.jonasmekas.com
).
Jonas Mekas (born December 23, 1922; Semenikiai, near Birai, Lithuania) is a filmmaker, poet, editor, and curator who has often been called The Godfather of American avant-garde cinema. He is the founder of the Anthology Film Archives, The Film–Makers' Cooperative, and Film Culture magazine. Mekas started the "Movie Journal" column for the Village Voice in 1958 and remained a film critic at the publication until 1978. He is best known for his diary films such as Walden (1969), Lost, Lost, Lost (1975), Reminiscences of a Voyage to Lithuania (1972), and Zefiro Torna (1992). In 2001, he released a five-hour diary film entitled As I Was Moving Ahead, Occasionally I Saw Brief Glimpses of Beauty, assembled by hand from an archive comprising fifty years-worth of recordings of his life.
Jonas Mekas: The Beauty of Friends Being Together Quartet is organized by guest curator Phong Bui, an independent curator and publisher of the monthly journal, The Brooklyn Rail.