Jonathan Horowitz
And/Or
22 Feb - 14 Sep 2009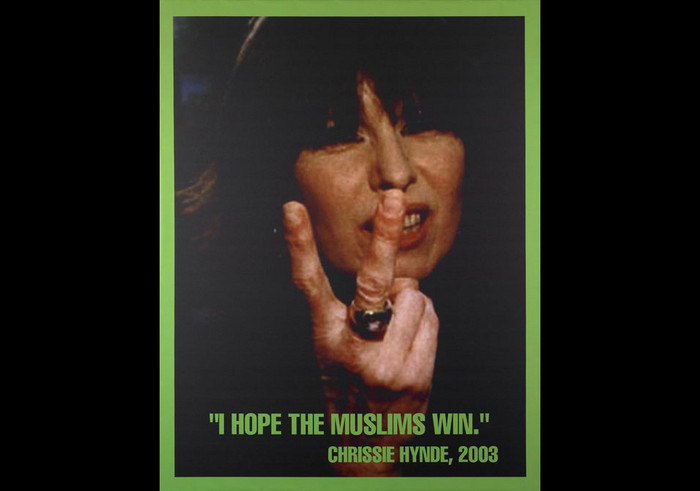 Jonathan Horowitz, Portrait of Chrissie Hynde (i hope the Muslims win) (2003). Inkjet print on vinyl. 57 1/2 x 45 inches. Courtesy Gavin Brown's enterprise, New York.
P.S.1 Contemporary Art Center presents Jonathan Horowitz: And/Or, the first solo exhibition of the New York-based artist at a New York museum. Working in video, sculpture, sound installation, and photography, Horowitz critically examines the cultures of politics, celebrity, cinema, war, and consumerism. The exhibition will include works ranging from the early 1990s to the present, on view in the 1st Floor Main Galleries, with an additional work concurrently on view at The Museum of Modern Art in the 2nd Floor Café.

From found footage, Horowitz visually and spatially juxtaposes elements from film, television, and the media to reveal connections and breakdowns between these overlapping modes of communication. In many works, these concerns are couched in the language of technology. In his video projection Maxell (1990), the image of the well-known videocassette brand logo plays from a tape copied many times over; the word deteriorates into a blur of static as the information on the tape erodes. Horowitz also notes the value systems inherent in media by establishing a sculptural presence for his video works, where VHS tapes and television monitors are positioned as objects on metal stands.

Horowitz repositions news publications like Life and Time, evocative of wholesome American ideals, to draw subversive connections. This critical eye includes current political references: a maudlin oversized novelty figurine is entitled Hillary Clinton is a Person Too (2008). Other work addresses the inverted politics of celebrity activism, whereby celebrities align themselves with particular issues in order to construct and reclaim their identities. Media-generated imagery of icons Elizabeth Taylor, Jane Fonda, and Helen Keller, not unlike those used by Warhol, is combined with quotations expressing political conviction, resulting in a new form of humanist Pop portraiture. Horowitz likewise applies this same humanist strategy to his work in other mediums: minimalist-style sculptures such as Tofu on Pedestal in Gallery and Two-Sided Monument similarly communicate the artist's signature combination of subjectivity, pathos, and humor.

Jonathan Horowitz: And/Or is organized by Klaus Biesenbach, Chief Curator, Department of Media, The Museum of Modern Art and P.S.1 Chief Curatorial Advisor.

The exhibition is made possible by MoMA's Wallis Annenberg Fund for Innovation in Contemporary Art through the Annenberg Foundation.

Additional support is provided by The Junior Associates and The Contemporary Arts Council of The Museum of Modern Art, LUMA Foundation, The Stephanie and Peter Brant Foundation, Greenwich, CT., and Hilary and Peter Hatch.

Special thanks to Gavin Brown's enterprise, New York, and to Yamaha Artists Services, Inc.