Katrín Sigurdardóttir
High Plane V
29 Oct 2006 - 21 May 2007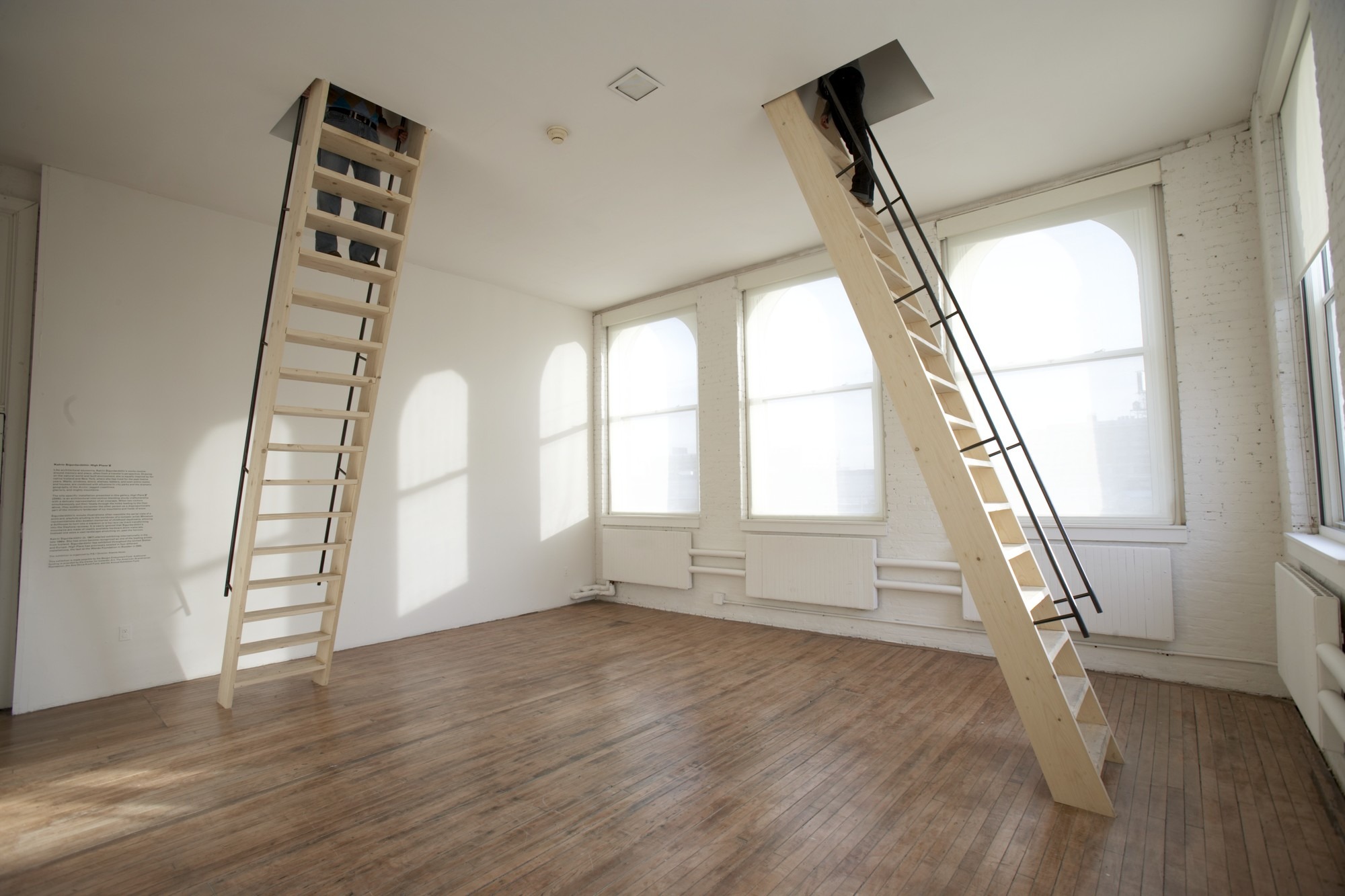 Installation view of the P.S. 1 exhibition "Katrín Sigurdardóttir: High Plane V"
October 29, 2006–May 21, 2007. INPS1.951.1. Photograph by Matthew Septimus.
P.S.1 Contemporary Art Center is pleased to present High Plane V (2006), Katrín Sigurdardóttir's first solo project in New York. This site-specific architectural intervention, which will inhabit P.S.1's second and third floor corner galleries, will be on view from October 29, 2006 through May 21, 2007.

High Plane V will depict an artificial landscape, made of the most basic construction materials: blue insulation material and white paint. The panorama, which is a mix of imagined and real Arctic topographies, will be constructed on the floor of the third floor corner gallery. In order to view the landscape, visitors will be invited to climb up one of two ladders in the second floor gallery, and raise their heads through one of the two holes in the ceiling above. Upon reaching the third floor, the two viewers will be confronted not only with the icescape, but also with each other. As the topography is elusive in its source, it invites diverse interpretations—mountain ridges, icebergs, glaciers, or perhaps archipelagos seen from above the clouds.

In her work, Sigurdardóttir merges nature, architecture, and design, inspired by her native Iceland as well as New York, her home for the last twelve years. From conventional woodshop materials such as plywood, polystyrene, and foam core, she creates miniature versions of imaginary and real environments that are often presented in crates, suitcases, or room-sized installations. These complex architectural structures encourage direct participation, and also evoke references to fragile childhood scale models and places of the imagination.

Katrín Sigurdardóttir started exhibiting internationally in the late 1990s. Since then, she has become renowned as one of the leading artists from Iceland. She has exhibited throughout the United States and Europe, and has had solo shows in France, Italy, Iceland, and Mexico. Her work is included in the collections of the National Gallery in Reykjavik, the Reykjavik Museum of Art, the Fonds Regional d'Art Contemporain de Bourgogne in Dijon, France, and other institutions. Katrín Sigurdardóttir was born in Reykjavik, Iceland in 1967 and is based in New York.

This exhibition is organized by P.S.1 Director Alanna Heiss, who first saw a version of Sigurdardóttir's High Plane exhibited at The Wanas Foundation, Sweden in 2005.