Kris Martin
21 Oct 2007 - 07 Jan 2008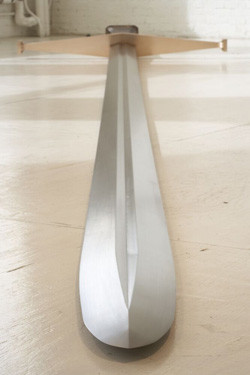 Kris Martin, Mandi XV, 2007. Steel. 263 3/4 x 51 1/4 x 7 3/4". Courtesy Sies + Höke, Düsseldorf. Photo by Matthew Septimus.
P.S.1 Contemporary Art Center presents the first solo New York exhibition by Kris Martin. The Belgian artist brings together sculpture, drawing, photography, and works on paper that examine themes of morbidity, beauty, destruction and time. Kris Martin is on view in the Second Floor Main Gallery from October 21, 2007 through January 7, 2008.

Whether working on the scale of monumental sculpture or de-materialized gesture Martin's practice positions itself at the extreme brink of cognition—how knowledge and wisdom is gained at the close of experience or how life is recognized only at the edge of death. Vase is a seven-foot high reproduction of a ceramic Ming vase. Its conditions of existence require that it be broken and reassembled each time it is exhibited. One Hundred Years offers a similar play on entropy and the irreversibility of time's arrow. A self-degrading sculpture, the golden orb will be eventually tarnished by oxidation. Whether its eventual degradation marks the commemoration of great talent now passed away, or is merely the damp squib of an artist consigned to insignificance remains to be seen. It is only known that all things, art and reputation alike, come to an end.

Finality is also the subject of End-Points, an ongoing series for which Martin has isolated and extracted the last period from literature. Like the Mandi III signboard whose ever-changing face announces only its own futility, or the silent scream of a Laocoon from which the very source of struggle has been removed, they are markers in the passage from experience to abstraction. Whether distilled to a single dot or fragmented into a thousand pieces, Martin's art draws from the space in-between, an image of the world in which all activity, monumental or insignificant, may be just killing time.

Kris Martin (b. 1972, Kortrijk, Belgium) has been exhibiting his art since 2001. He has primarily shown his work in Europe, having had solo exhibitions at galleries such as Sies + Höke Galerie, Düsseldorf; Marc Foxx, Los Angeles; Johann König, Berlin; and also at Neuer Aachener Kunstverein, Aachen, Germany. Martin has also participated in the 2006 Berlin Biennale. He lives and works in Ghent.

Kris Martin is organized by P.S.1 Senior Curatorial Advisor Neville Wakefield.

The exhibition is supported by The Junior Associates of The Museum of Modern Art.